Konstantin Ikonomidis Honors Greenlandic Culture And Nature With Minimalist Glass Pavilion – ADC
In Greenland, Swedish architect Konstantin Ikonomidis has designed and built a circular, site-specific glass pavilion in cooperation with the municipality of Qeqqata. Set among stunning surroundings, the permanent landmark 'Qaammat Fjeld' acknowledges the beauty and rich history of the natural site as well as the spiritual sensibilities rooted in the local community.
Located in the UNESCO site in Sarfannguit, where two fjords meet, the glass pavilion blurs the boundaries between man-made and natural. "The [location] choice was guided by a strong desire to respect nature and find a balance within the extraordinary landscape," explains the architect. Intended to integrate landscape and human stories into its design, "the Qaammat Fjeld pavilion was designed to celebrate and promote the Inuit intangible cultural heritage and traditional knowledge of the environment," he continues. Ikonomidis employed traditional local building techniques, with metal poles anchored in the rocky terrain and a custom-made stainless steel bracket with a circular geometry attached to them. The structure comprises two curved walls in solid cast opaque glass bricks manufactured by WonderGlass, in collaboration with experts Faidra Oikonomopoulou and Telesilla Bristogianni from TU Delft University. These lead to two narrow openings which invite visitors to step into the pavilion and experience its intimate atmosphere, while looking out to the spectacular landscape.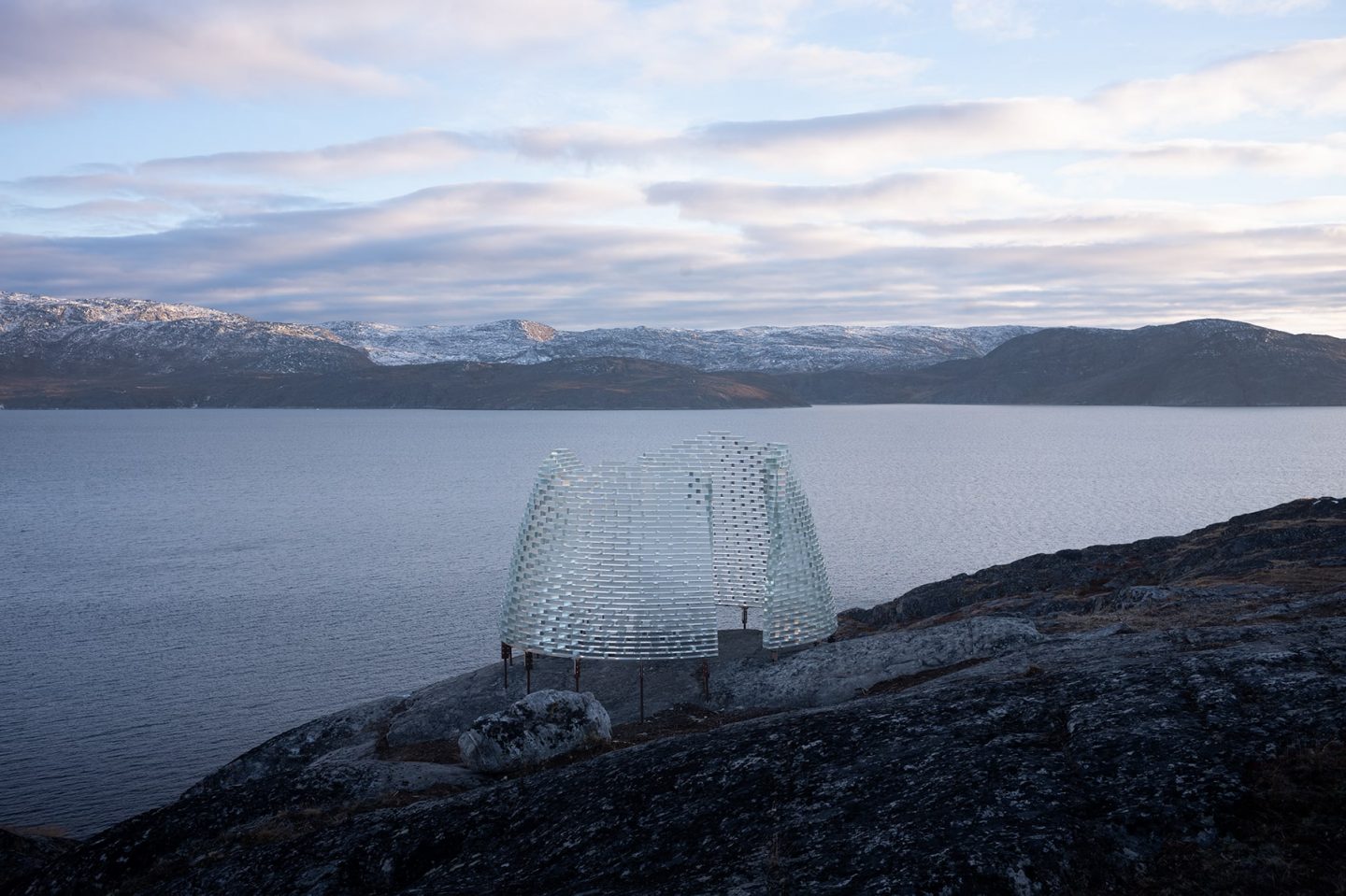 "The installation will serve as a gathering point and dissemination site, where the World Heritage site's beautiful surroundings can be experienced by locals and visitors [alike]," says the architect. Inserting its presence yet remaining almost invisible thanks to its glass shell, "the pavilion can simultaneously alter the viewer's perspective, merge, and even vanish into the surrounding topography." Highlighting the passing of time and seasons through its play of transparencies and reflections, "it is imagined as a canvas, which will come alive through reflecting the color palette of its surroundings," adds Ikonomidis.
Source: Ignant