We are inviting ambitious projects in the field of Architecture, Interior, Landscape, Product & Communication Design.
Architecture & Design Community encourages designers and architects, construction workers, and engineers to share their best projects with the rest of the world so as to inspire the next generation and gain global recognition. Are you proud of your project? Then share it with us! Whether it's the architectural design of a shopping mall or a luxury villa project, the design of a metro station or a bus stop, a website or magazine design a private or public landscaping project, the interior of a modern apartment, or just a designer chair. What matters is the distinctiveness and uniqueness of your project.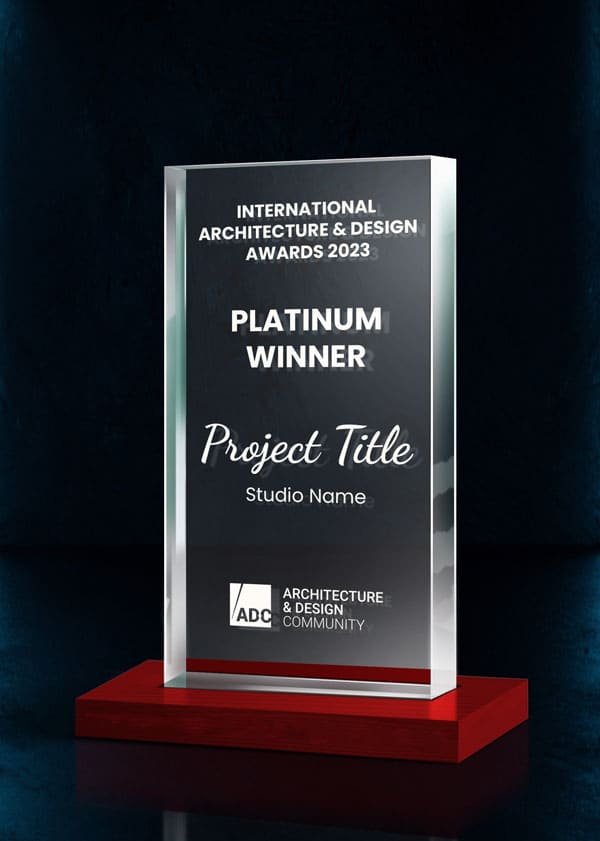 Interior
& Landscape
Designers
Communication
& Web Designers
Manufacturers
& Investors
Our Award broadly covers all fields of architecture and construction, interior and landscape design, product and communication design. Both industry experts and students, as well as large companies and individual professionals, are invited to participate.
This year we organized 89 nominations with 267 prizes!
Therefore, we are absolutely sure that everyone can find the right category for their project.
     Certificate of Achievement for all Winners & Awardees
     Personalized Award Logo for all Winners
     IAD Award Trophy for the Top 10 projects
     Publication in the ADC Winners list
     Your project will be featured on our homepage and get its own landing page
     Your project will be posted on ADC's official Instagram and Facebook feeds
     The best projects will get on the covers of future ADC Awards
     A selection of projects will be included in ADC's newsletters
Your project will be seen by millions of people!
Architecture Design Categories
Commercial
Corporate
Cultural
Educational
Healthcare
High Rise Architecture
Hospitality
House Design
Household
Housing
Industrial
Institutional
Mixed Use
Office building
Pop-ups and Temporary
Private Residence
Public Building
Residential
Sports & Recreation
Transportation
Arches, Bridges, Viaducts & Gateways
Mobile Homes
Memorials
Renovation
Restaurants & Bars
Retails, Department Stores & Mall
Interior Design Categories
Commercial Interior
Corporate Interior
Healthcare Interior
Hospitality Interior
Hotel Interior
Housing Interior
Interior Design Elements
Office Interior
Public Building Interior
Residential Interior
Retail Interior
Workplace Interior
Bedrooms
Children's Rooms & Nurseries
Intelligent Homes
Kitchen
Leisure & Wellness
Recreation Spaces
Renovation
Restaurants & Bars
Spa & Fitness
Showroom & Exhibit
Landscape Design Categories
Private Landscape Design
Public Landscape Design
Balcony Design
Cultural Heritage Design
Garden Landscape
Hotel & Resort Landscape
Industrial Landscape
Institutional Landscape
Landscape Maintenance
Landscape Renovation
Open Space Design
Sculpture Design
Urban Design
Water-Wise Landscape
Product Design Categories
Interior Design Elements
Product Design
Lighting Design
Pop-Ups Design
Home & Office Accessories
Lifestyle & Fashion
Sports & Outdoor Activities
Luxury Goods
Computers & Electronics
Workshop & Tools
Medical & Health Care
Packaging Design
Transportation vehicles & Accessories
Communication Design Categories
Audiovisual Design
Apps & Game Design
Art
Photography
Event
Websites and microsites
Brand Identity
Typography
Publications and Advertising
Early Bird Registration deadline

Standard Registration deadline

Late Registration deadline

Submission deadline

Evaluation period begins

Winners Announcement
Early Registrations
till 9th December 2022
$ 130   $ 200
VAT included for individual participants.
Standard Registrations
till 31th January 2023
$ 150   $ 200
VAT included for individual participants.
Late Registrations
till 12th May 2023
$ 200
VAT included for individual participants.












Interested in becoming a Jury Member?
Why enter International Architecture & Design Awards?
The International Architecture & Design Awards is hosted by ADC, with a jury consisting of top figures in the world of architecture and design. Consequently, the International Architecture & Design Awards enjoy unprecedented prestige and coverage. Each short-listed and awarded project will be posted on the Architecture & Design Community website and shared with our vast social media and mailing list communities, resulting in significant recognition for all winners. The short-listed and awarded studios will benefit by promoting themselves as winners of the International Architecture & Design Awards. Moreover, the winners get certificates and unique marketing materials with the contest logo.