Rethinking the terraced house – ADC
Zach Fluker, director of ao-ft, explains how Spruce House and Studio, constructed from CLT, establishes a prototype for sustainable housing on tight urban sites.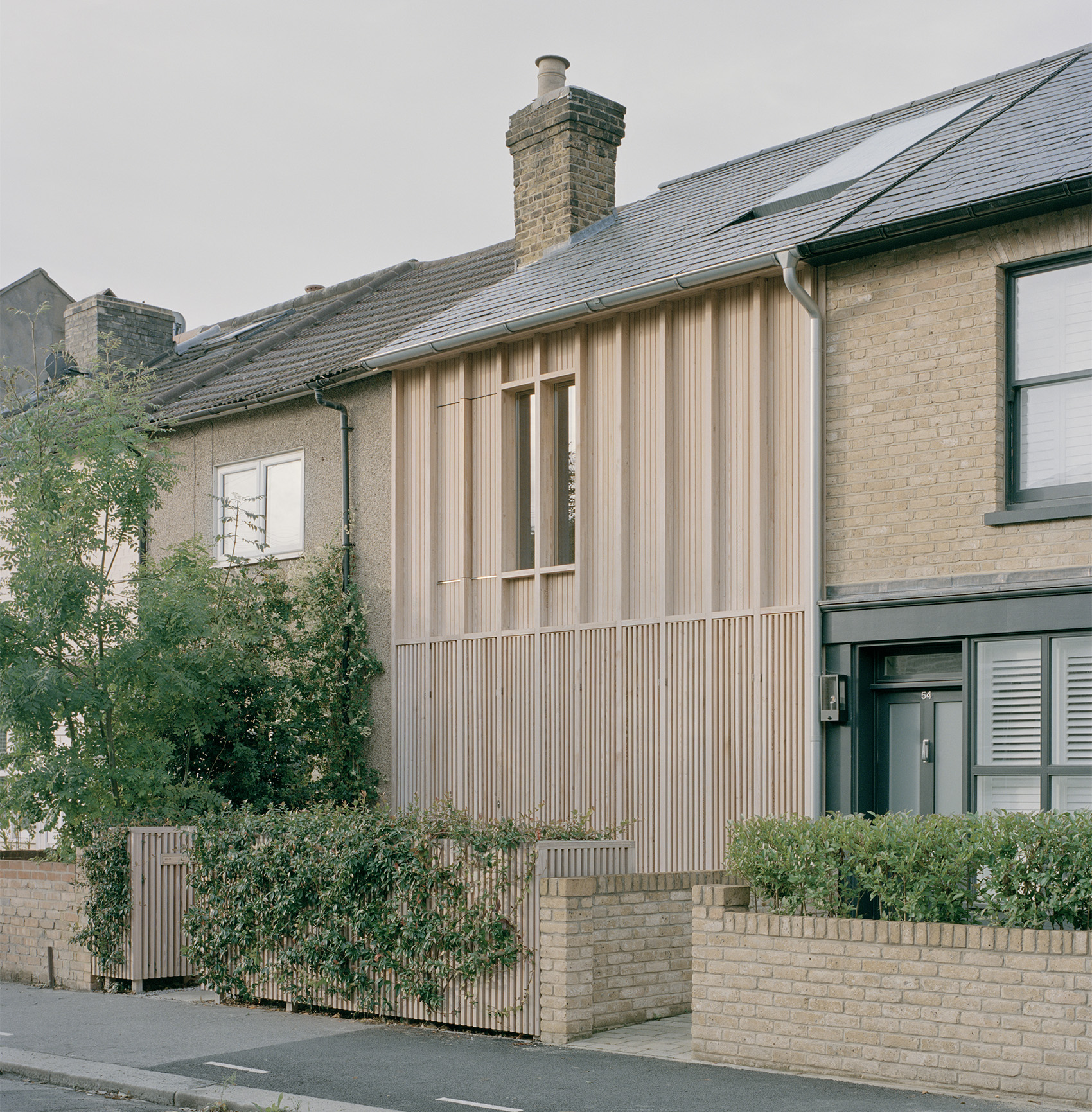 Located in a conservation area, the house occupies a wide plot on what used to be the village high street. Over the past century, houses in the street have transitioned from retail into homes. In a nod to this history, the street façade has been reimagined as a contemporary shop front, with timber battens and mullions screening the glazing which stretches across the ground floor.
Prototypes often come out of the need to fulfil a demand or rethink an established typological norm – in this case a London terraced house. As the city densifies outwards and upwards, large-scale developments rarify Victorian and Georgian terraced rows, placing an increased importance on their value within the city. Their history and abundance are key to the character of the city but due to their age and construction, they have proven to be extremely energy inefficient.

Custom built-in joinery conceived as a piece of furniture conceals a media unit and under-stair toilet, and links to a long stainless-steel kitchen and sunken dining space. The decision to lower the foundation 500mm down into the plot places occupants level with the garden beds when inside, and creates a generous sense of volume to the ground floor. Cast concrete window seats and full-height glazing create a strong connection
Moving forward, we must look to more resilient methods of construction to deliver housing that contributes to the well-being of occupants while strengthening the social and environmental fabric of our neighborhoods. This shift towards performance-based natural materials with a reduced embodied carbon footprint has been a staple of rural building culture for centuries but is still in its infancy within the urban context. This is largely due to the fact that high-density housing brings with it complex regulations within spatially constrained sites.

Drawing on past experience in industrial design, ao-ft designed the staircase to be a kit-of-parts that can be assembled and disassembled. The 24 individual interlocking treads act as the spine of the house and allow light and air from the large overhead skylight to pass through the perforations. The 5mm steel was laser cut and robotically folded to millimetre precision before being craned in and measure tested.It was then removed and powder coated off-site before final installation.
When we set out on the design of our most recent project, the Spruce House and Studio in east London, our ambition was to develop a prototypical dwelling constructed from renewable resources that could be replicated at scale within the urban environment. Located on a compact infill site inside a conservation area, we worked between the constraints of providing generous open internal spaces while keeping the design economically viable.

Through a series of desktop studies of different sustainable construction methodologies, we landed on cross laminated timber (CLT) for its benefits of carbon sequestration, construction sequencing, and cost. Other added attributes that drew us to the building system were the origins of the raw material coming from managed forests, precision off-site manufacturing, and its embedded aesthetic. Through researching other projects, the majority of which were at a much larger scale, the key traits of speed-of-assembly, strength-to-weight ratio, and accuracy became evident advantages of using the system. For these reasons we see this building technology as one that could unlock a new model of terrace housing that combats age old issues of sound transfer between properties, airtightness and associated heat loss.

Full-height CLT doors with inlaid handles and spring-loaded door catches lie flush when open. CLT was chosen for its beauty as an exposed internal finish, as well as its environmental performance. Leaving the panels exposed inside reduces the need for other building materials, such as plaster or paint, ensuring the home features as little plastic as possible.

Light, verticality and layering combine to create a subtle, understated interior. Raw structural materials – timber, stainless steel, polished concrete and white perforated steel – are deliberately arranged to transfer light and catch shadows, creating ever-changing texture and pattern throughout the house./strong>
Designing an infill CLT house involved a rethink of the interface between shell and adjacent context. The initial design looked at inlaying CLT panels within a series of steel beams that would span between party walls. Although a more recognisable sequence of constructing a terrace house, this direction would have led to large quantities of steel sections and resulted in a high cost of material and labour. The alternative solution was to use CLT wall panels to support the floors through a simple configuration of stacking one on top of the other. This switch in the structural approach led to minimal fixed points of contact with the party wall, resulting in an acoustically quiet interior, increased timber mass and sequestered carbon, as well as major cost savings. The total construction cost for the 118-square-metre house and 14-square-metre studio was £410,000, or £3,100 per m².

Designed using 46 CLT panels, the shell was assembled in just five days. The custom-milled prefabricated panels sequester and store 37 tonnes of carbon dioxide, which is approximately the amount of carbon a car would emit over an eight-year period.
Designed using 46 panels, the shell was assembled in five days and has sequestered 37 metric tonnes of CO2 from the atmosphere, which is approximately the amount of carbon a car would emit over an eight-year period. According to the RIBA 2030 Climate Challenge, the current embodied carbon metric for domestic/residential 'business as usual' new-build compliance is set at 1200 kgCO2e/m². The future target for 2030 sees this metric reduced to less than 625 kgCO2e/m². By re-evaluating the construction method for Spruce House and Studio, we have managed to achieve an embodied carbon of 336 kgCO2e/m², which is nearly half of the 2030 target.

A standalone design studio at the rear of the garden is constructed using traditional timber framing with larch glulam beams on the outside, and spruce on the inside. The studio features clerestory windows and exposed overhead rafters, and opens onto a second smaller rear garden to provide natural cross ventilation through the space. A 12-metre-long garden links the house and studio, reintroducing pollinating plants and increasing biodiversity.
With the shell resolved alongside the input of a CLT contractor and structural engineer, there became a clear distinction between pre- and post-CLT installation. To begin the procurement process, we decided that for cost and quality, an efficient way forward would be to split up the contracts into three distinct areas of build. The sequence began with demolition, groundworks and steel as one package, followed by CLT assembly with the main contractor completing the project. This approach worked well, ensuring no trade worked on top of another and facilitating the use of smaller teams. A further benefit to dividing up the building programme was that it meant multiple streams of production (on-site and off-site) could progress simultaneously, which in turn helped reduce time to practical completion.
In the case of Spruce House and Studio, the benefits of using this mass timber building system at a small scale has resulted in an energy-efficient home that benefits both the environment and its users. The potential of implementing this design methodology and accompanying construction principles on other infill sites within the UK or for multiple units is a way to rethink the existing model of terraced house living, giving greater access to healthy, affordable homes to all.
Credits
Client
Liz Tatarintseva and Zach Fluker
Architect
ao-ft
Structural Engineer
Entuitive
Solar consultant
MES Building Solutions
Fire consultant
IFC Group
Landscape consultant
Meeuwsen Muldoon
Project manager
ao-ft
Interior designer
ao-ft
Approved building inspector
London Building Control
Main contractor
PSS London
CLT Contractor
ConstruktCLT
Groundworks Contractor
Axel Keating
Staircase Contractor
Industrial Projects/James Green
More images and drawings
Source: Architecture Today