Beyond The Seen And Painted: Artist Jess Allen On The Power Of Observation – ADC
Meditative and suggestive, Jess Allen's paintings are the fruit of observation—a study of the passing of time and the will to feel and recount. Over Zoom from her studio in the moorlands of Cornwall, the British artist gives us a fascinating glimpse into a world she has nurtured for decades—one of contemplative interiors and memory-evoking, minimalist still lifes.
Allen was born with a creative spirit. Her trajectory of becoming an artist started at an incredibly young age. "My interest in drawing and painting happened due to my mum giving me paper and pencils as a way to keep me entertained—or maybe just quiet," she says with a soft smile. Growing up with an overworked mother and an older sister who showed little interest in playing with her, Allen's own artistic, private world became her escape and favorite form of play and inquiry—her pent-up energies and thoughts translating into creative drawings, using whatever ordinary treasures she would notice around her. However, her stories and characters did not materialize through her imagination and dream space; they germinated in the fragmentary passages of the mundane. "My approach has always been observation; back then, just as it is today. I wish I still had a very early drawing of our cat, curled up," she adds. What began as a sanctuary soon became an all-round instructive skill-set, and slowly, as her curiosity deepened, her vocation to pursue studies and eventually a professional career in fine arts truly crystallized.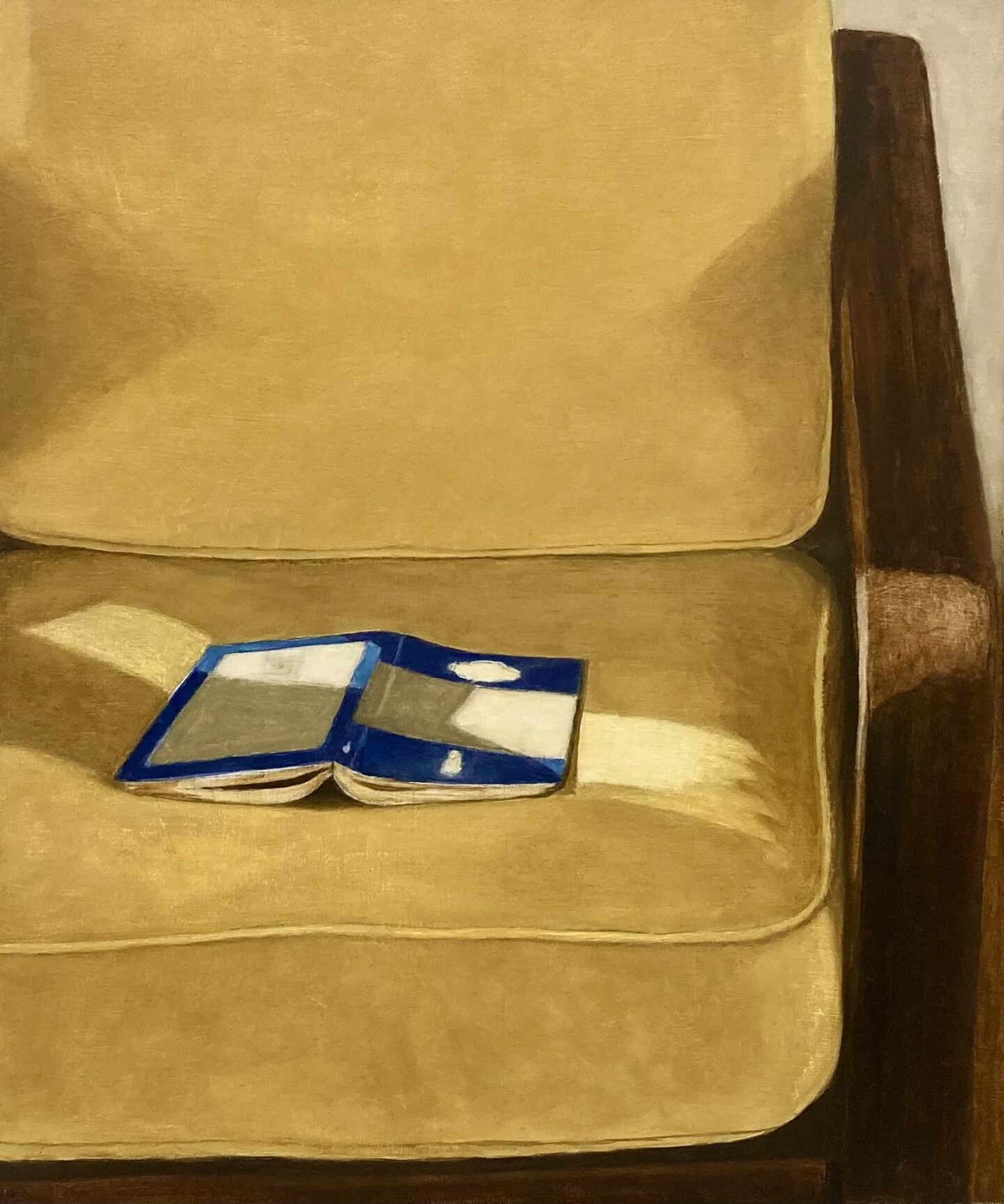 She Was Reading a Book, 2022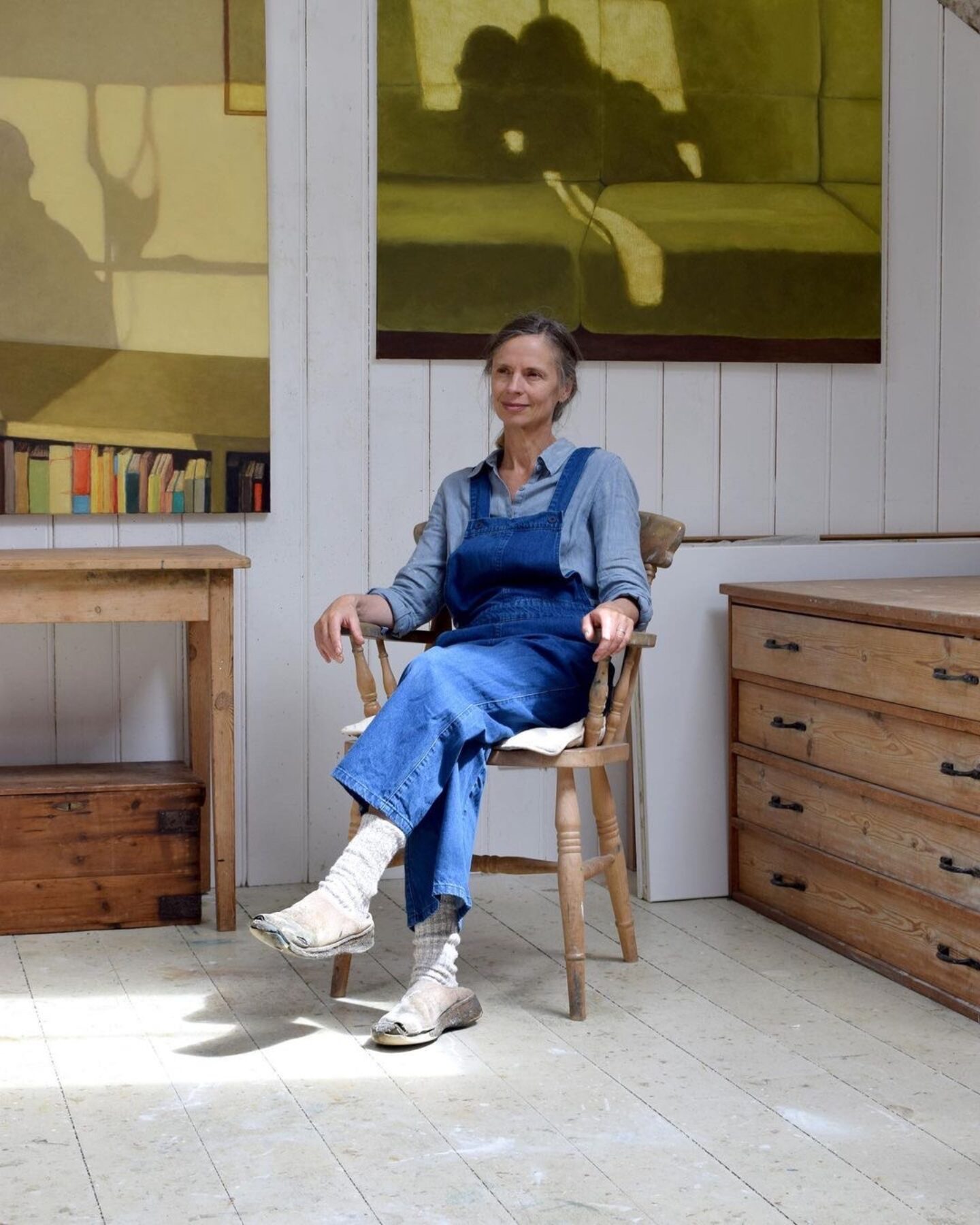 Image © Ocki Magill
"I've always been attracted to simplicity. I admire minimalism because of its clarity and lack of clutter"Today, working in oil paint on various surfaces—from wooden panels to stretched linen and canvas—Allen paints everyday, somewhat unremarkable, objects, highlighting the beauty and richness concealed in their ordinariness. When we first came across her paintings of still-lifes and interior scenes on Allen's Instagram page, we couldn't help but fall for their understated simplicity and minimalism, inducive of a pared-back serenity rarely found in the chaotic endless scrolling and its constant bombardment of dynamic images. We were instantly intrigued by their soothing textures and lines, and the perfect imperfection of the subjects depicted in them. "I've always been attracted to simplicity," says Allen; "I admire minimalism because of its clarity and lack of clutter. I have been drawn to it because it symbolises concepts that I admire very much. In particular, the idea of Ma, the Japanese word for their minimalist aesthetic, which emphasises the equal importance of spaces in artworks and in architecture, to actual objects or people," she continues. "They see these empty spaces as symbolic of pause in our daily life, which gives a feeling of calmness, a space to clear thinking. I certainly aspire to this, although, in fact, I am not naturally very ordered at all," she admits with a chuckle. "My studio is a typical artistic clutter. But we often yearn for what we are not."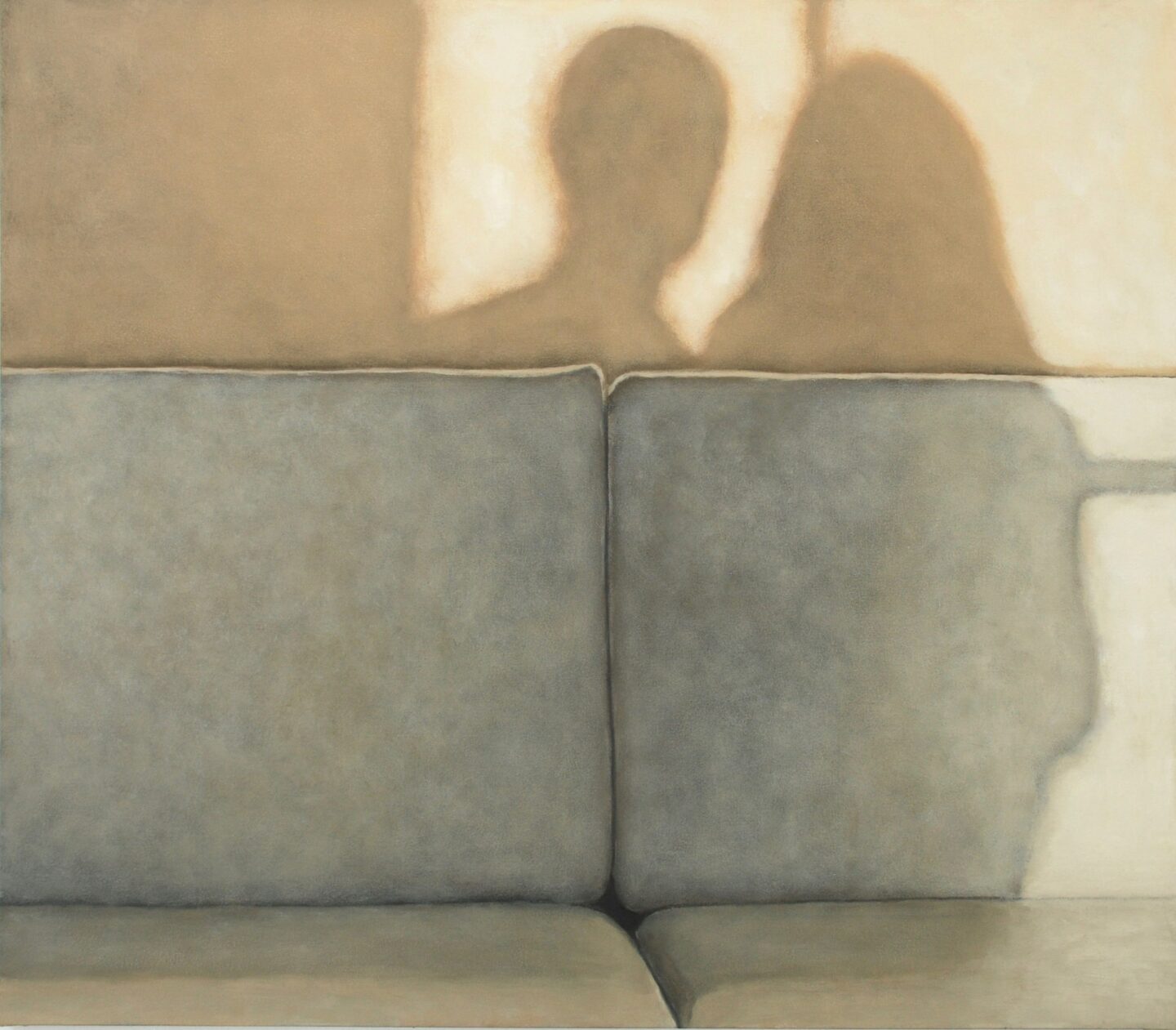 The End of the Day, 2023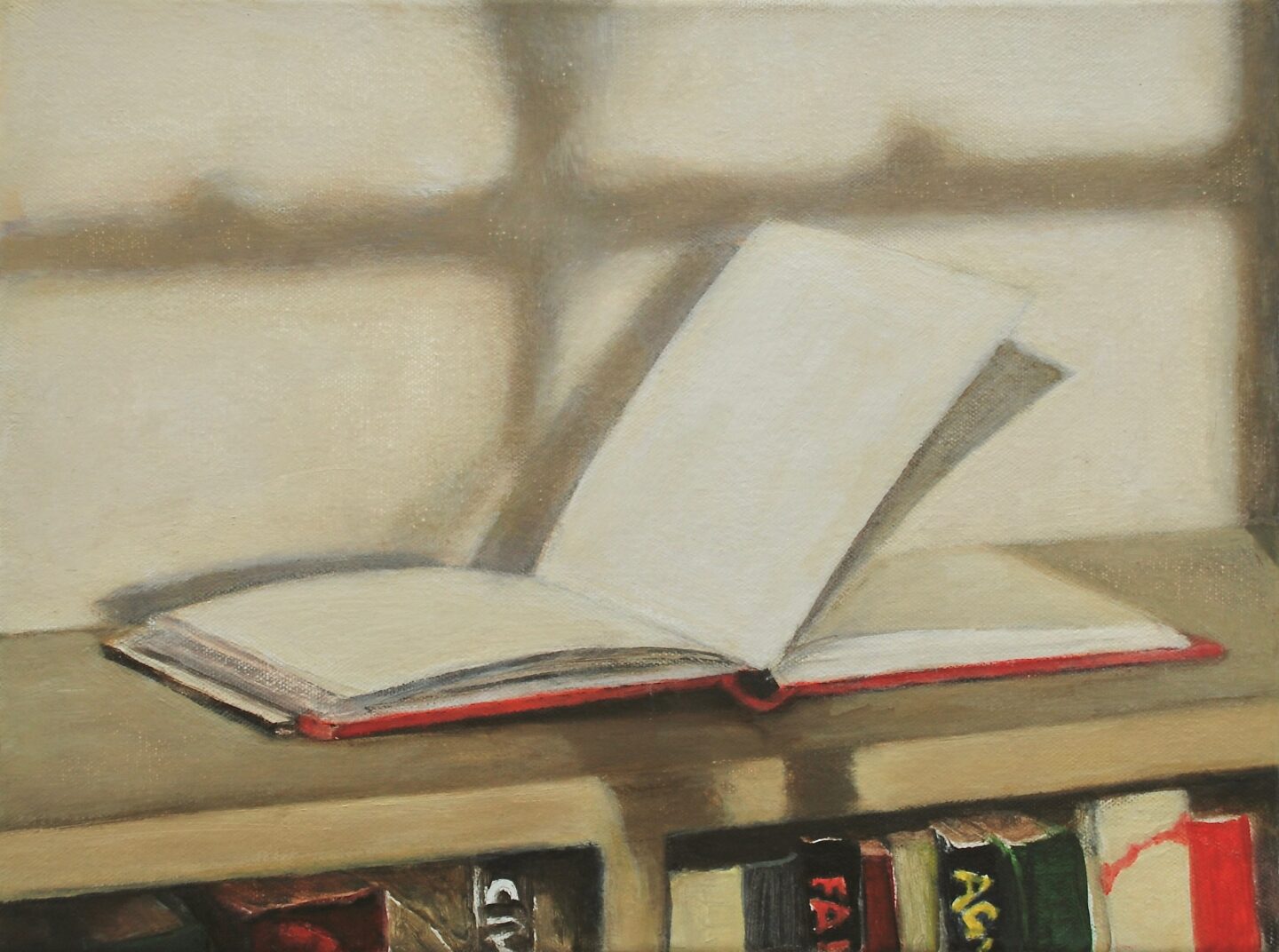 The Empty Book No. 2, 2023
"When I work, I'm very absorbed in the process of making an image of the form. I do this by looking hard and responding in an intuitive way"
For years, Allen has been exploring the Japanese concept in her works, paring down her subjects to a minimum and accentuating the space surrounding them. "My paintings have become very understated and pared down. I think this is due to my quiet observational approach," she notes. Her process always begins with contemplation—of forms, lights, and spaces—until a scene materialises itself, most likely illuminated solely by natural light. "When I work, I'm very absorbed in the process of making an image of the form, of whatever my subject is," she explains. "I do this by looking hard and responding in an intuitive way. I don't apply methods, such as measuring or color theory. Rather, I just look and mix paint and make marks, hoping it will somehow all come together." If a few years ago, Allen's starting point was a physical still life set up in her Cornish studio—a curated arrangement on a table of bags, or boxes, or books—this has changed now. When creating a new piece, the artist uses photography to capture a moment of light, either on still life objects or on interior spaces. "Light changes continuously, and so do shadows. I'm looking for a certain mood in an image, as well as an interesting composition. Photography helps me discover both of these," she explains.

Tower of Boxes, Study 3, 2018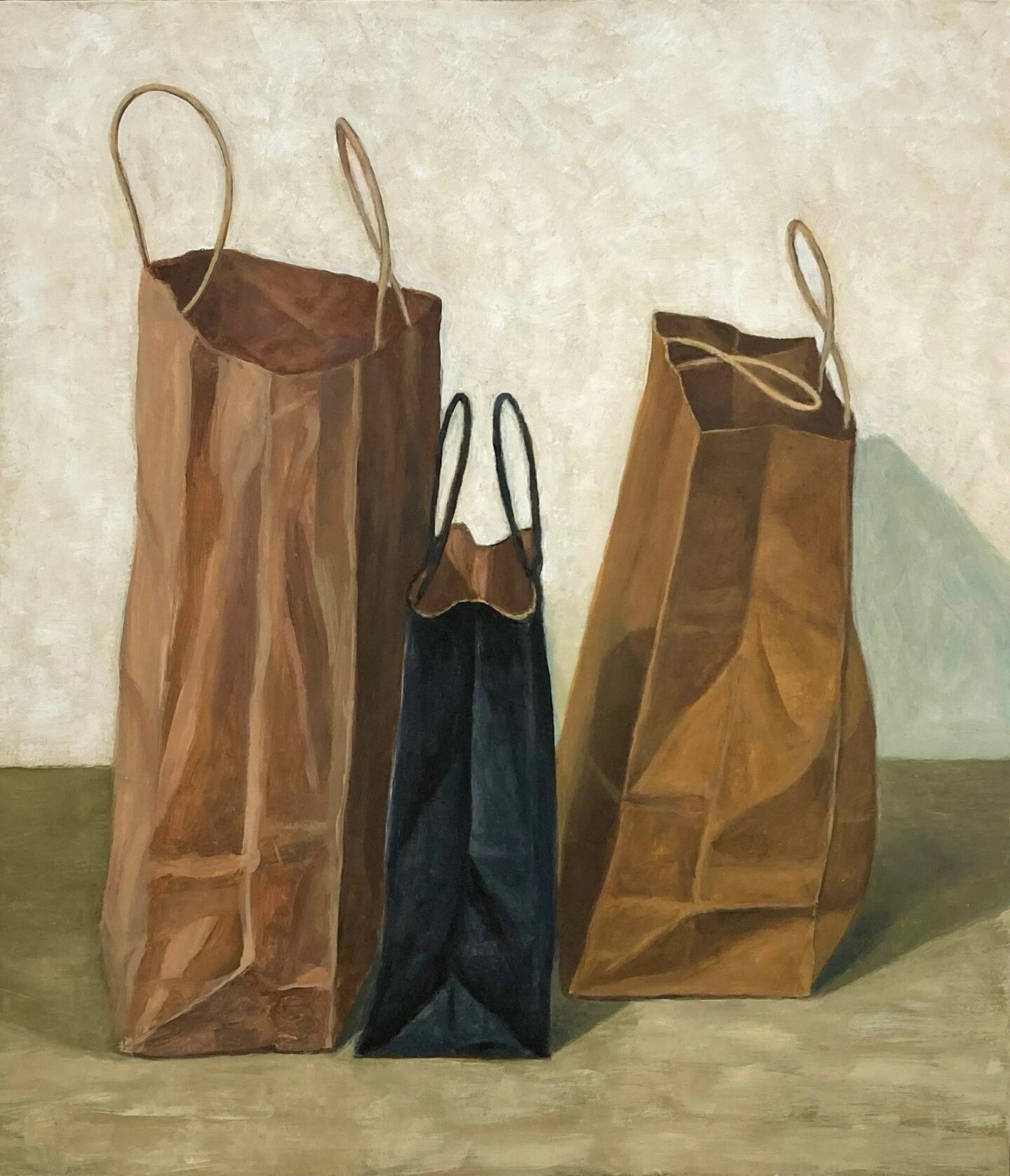 Paper Bags, 2018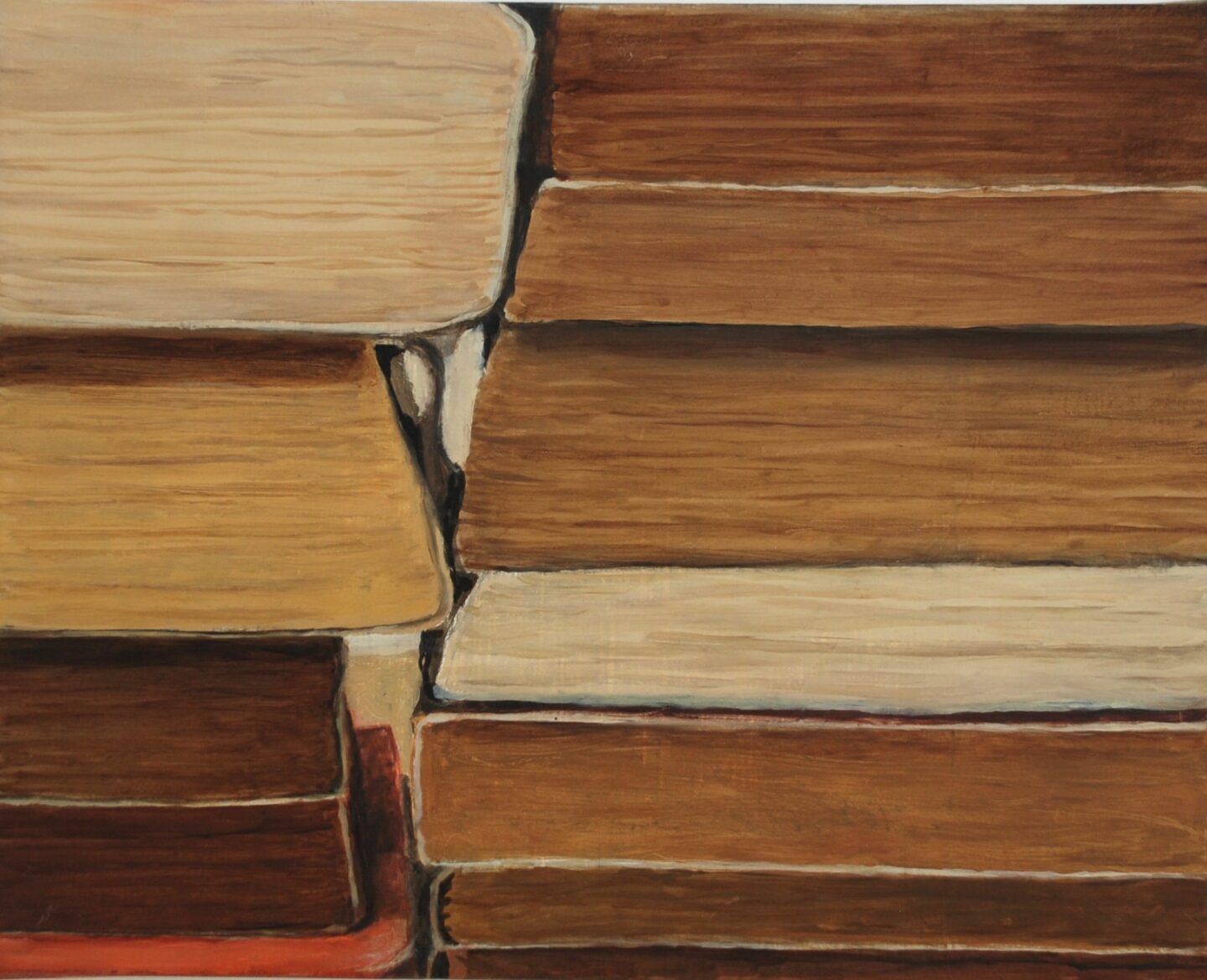 But Not Much More, Paperbacks, 2023
"I'm interested in the way certain objects can suggest meaning beyond their immediate physical appearance"The artist is intrigued by works that reveal exceedingly little, which represents connecting to the essence of things. "The most minimal we are left with, the most important and essential," she points out. A quick scroll through Jess Allen's portfolio reveals another compelling element that immediately captures the viewer: repetition—from books to paper bags and empty seats, to silhouettes and shadows. "I have become increasingly interested in the way certain objects and subjects can, and do suggest meaning beyond their immediate physical appearance," she explains. For instance, her series of paper shopping bags and pharmacy bags can be read as symbols of consumerism and the fragility of life. "I saw these works as vanities or memento mori images," she explains. "The books also have meaning, in that they are suggestive of the importance of literature as well as being symbols of ourselves, who, like a journal, can be written, however we choose," she adds.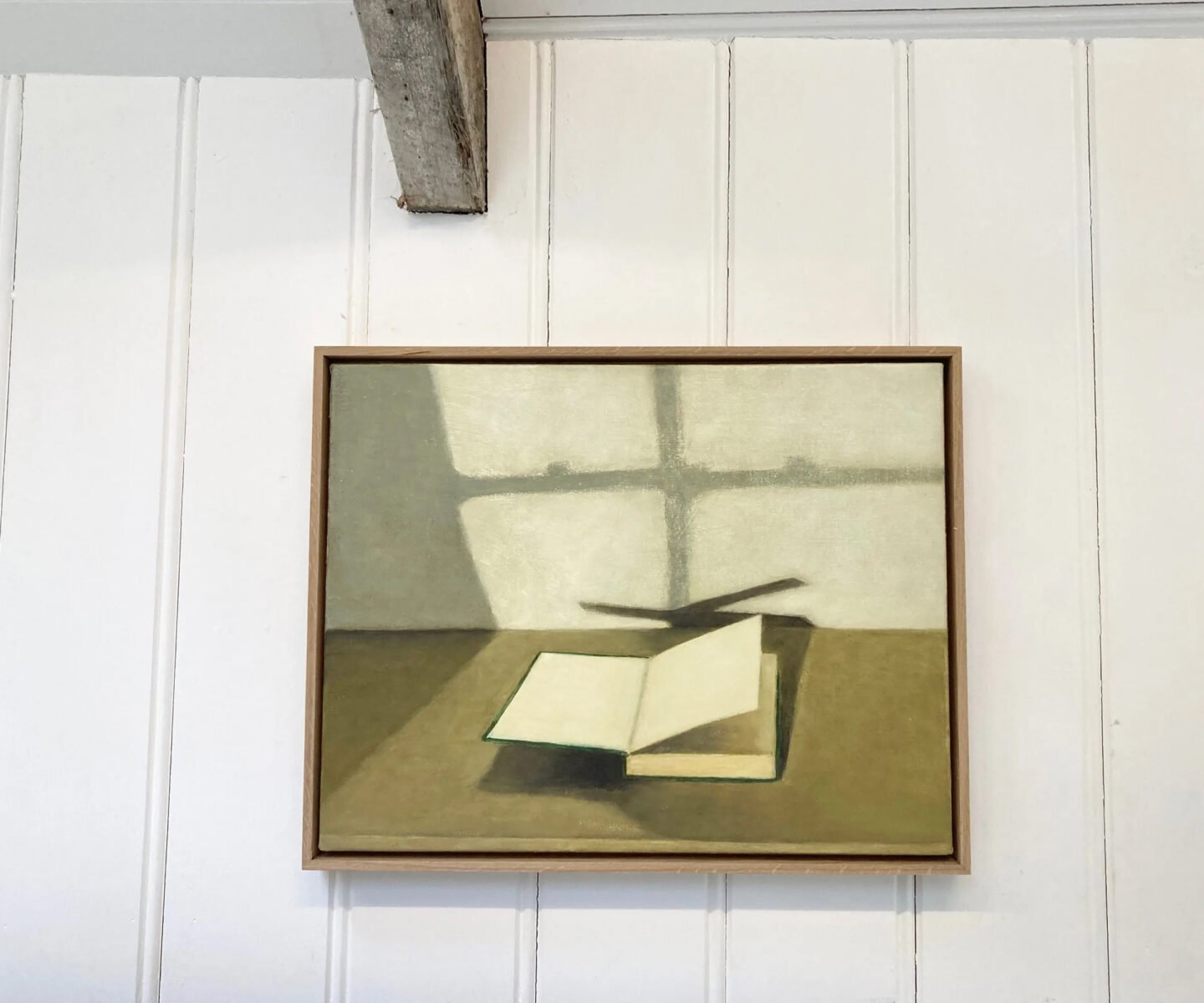 Open Book, Winter Light, 2022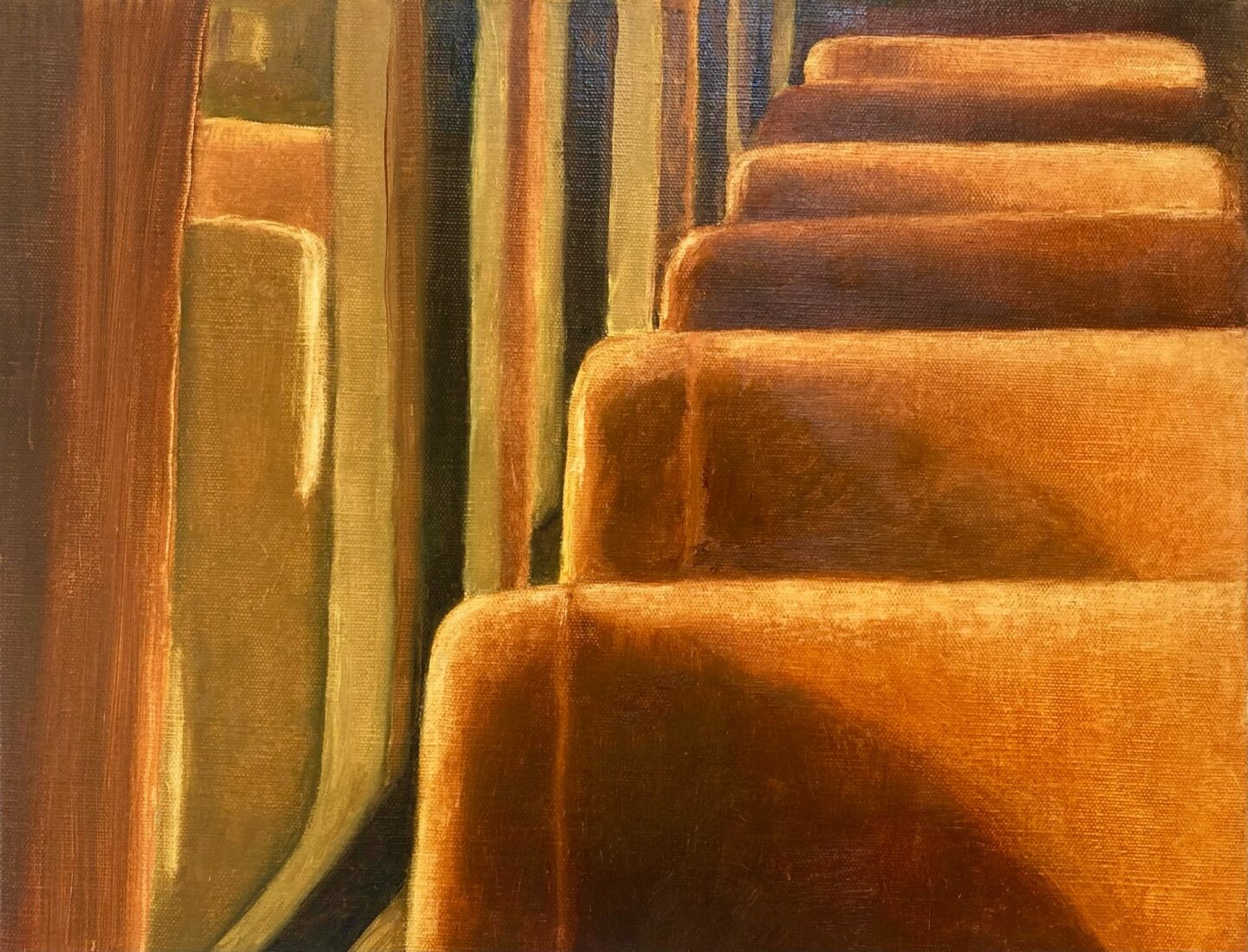 The Journey, 2022
Through her works, Allen encourages viewers to appreciate the unnoticed, the understated, and the forgotten. In her series 'Presence through Absence', she explores the theme of absence and presence through empty theatres, seats, and sofas, or books left behind by an absent reader. Suggesting the past presence of a person, they leave the viewer wondering at their enigmatic emptiness and at who could have been interacting with the objects before leaving. Similarly, her most recent body of paintings, 'Shadow Figures', captures fleeting moments in time where a play of shadows defines the particular instant recorded. Depicting pared-back interior scenes featuring a tableau of silhouettes and shadows, here, the presence of someone is indicated only through their own shadow. "Shadows interest me immensely because they are silent and ephemeral," shares Allen. "They are evocative, and like memories, they are a bit hazy. In a way, they are a minimal representation of our physical selves." Encouraging free association and reflection, the shadows "are like the soul", she adds, "always present with us, sometimes hidden, but revealed through our relationship with the light."
"Shadows are evocative, and like memories, they are a bit hazy. In a way, they are a minimal representation of our physical selves"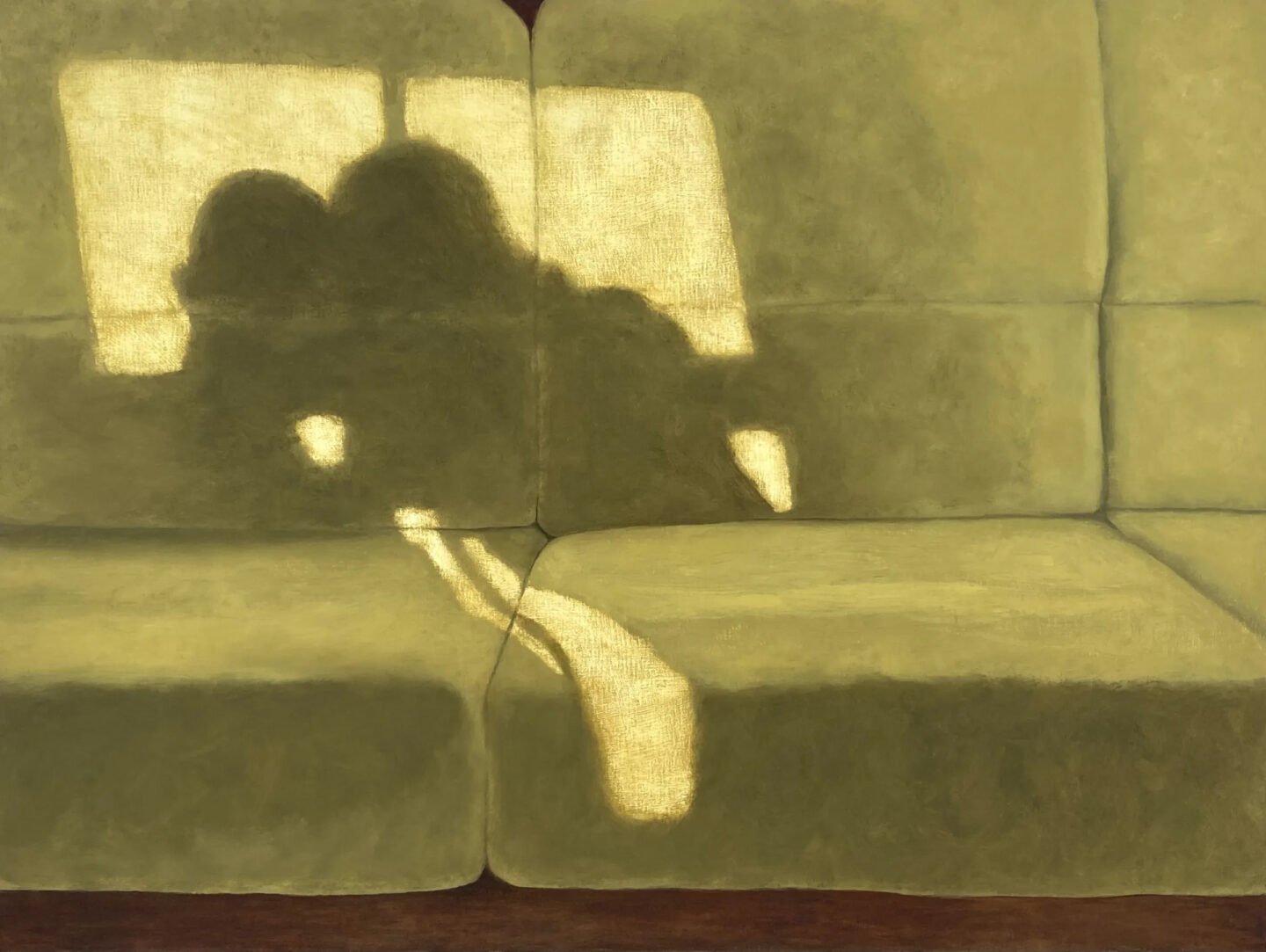 A Moment Together, 2022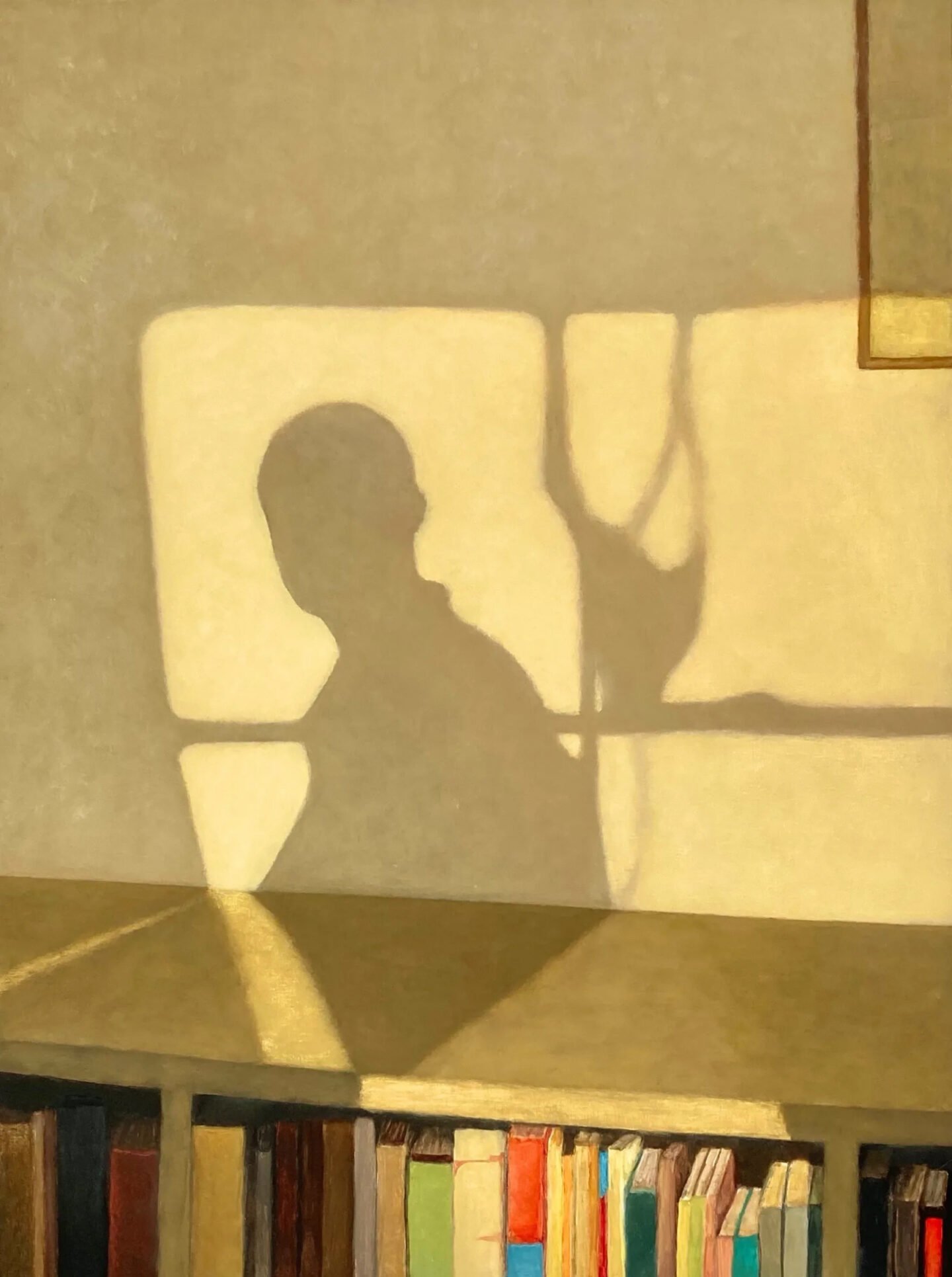 The Shadow Man, Study 7, 2022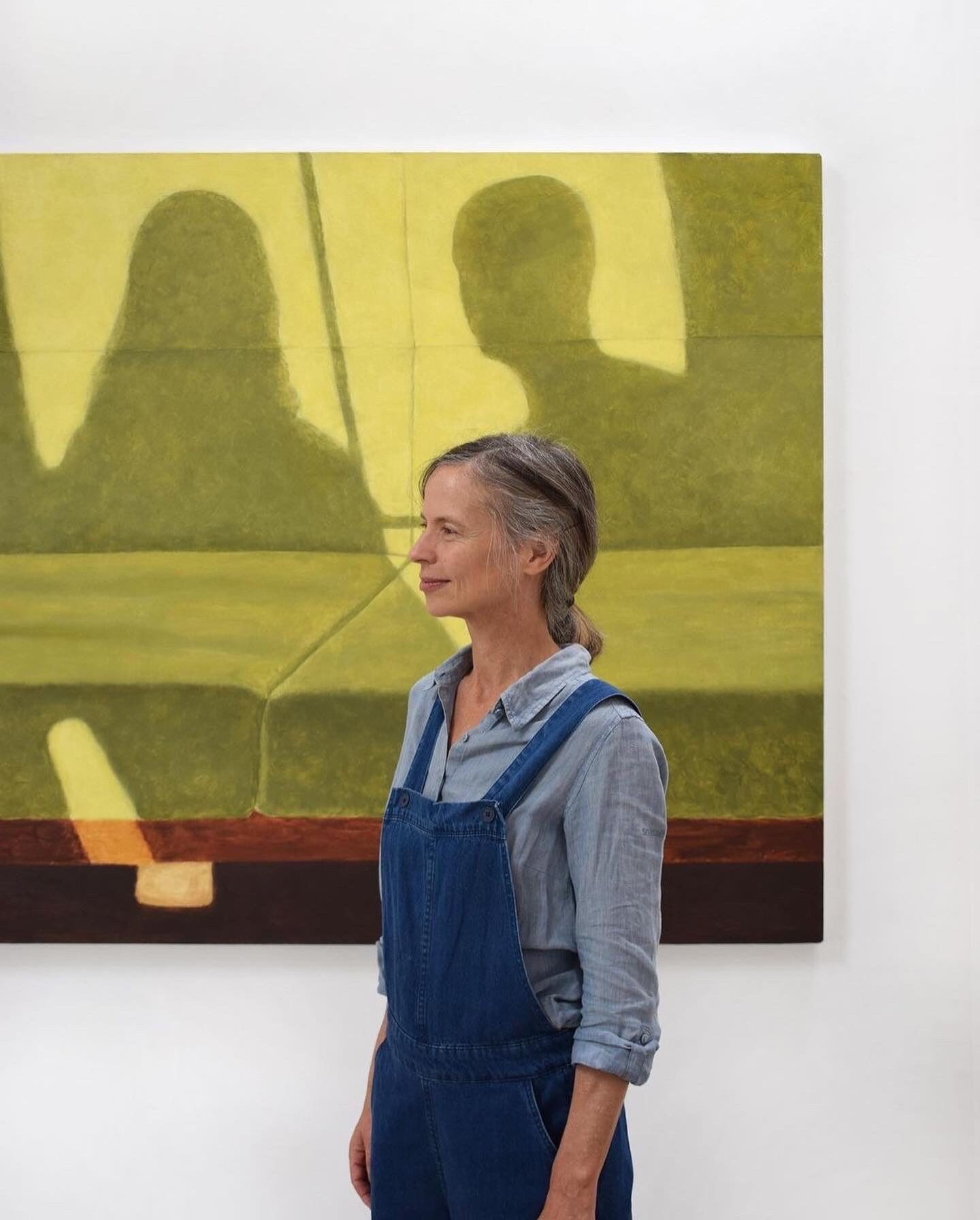 Image © Ocki Magill
No matter the motif, Allen hopes to place the painting itself at the center of enquiry, and that the audience can input their own experiences and desires on its forms; and, therefore, reveal how simple objects can evoke memories and inspire connection precisely because of their everydayness. Contemplative and introspective, her emotive pieces resonate deeply with those who view and admire them. "I've had some very memorable responses to my work," she admits. "One young woman wrote to me and said that she was moved to tears when she was one of my 'Figures on the Sofa' paintings, because it brought back childhood memories. Somebody else said that a painting of shadow figure was like it was herself and her ex boyfriend." Allen also recalls a particularly interesting review of one of her paintings by an MA Art History student, which addressed the liberating power concealed within and stated that "if art is a shadow that is not enough, then [Allen's painting] 'The Relationship' certainly allows the viewer to contemplate what is not there, what there isn't enough of. This frees us."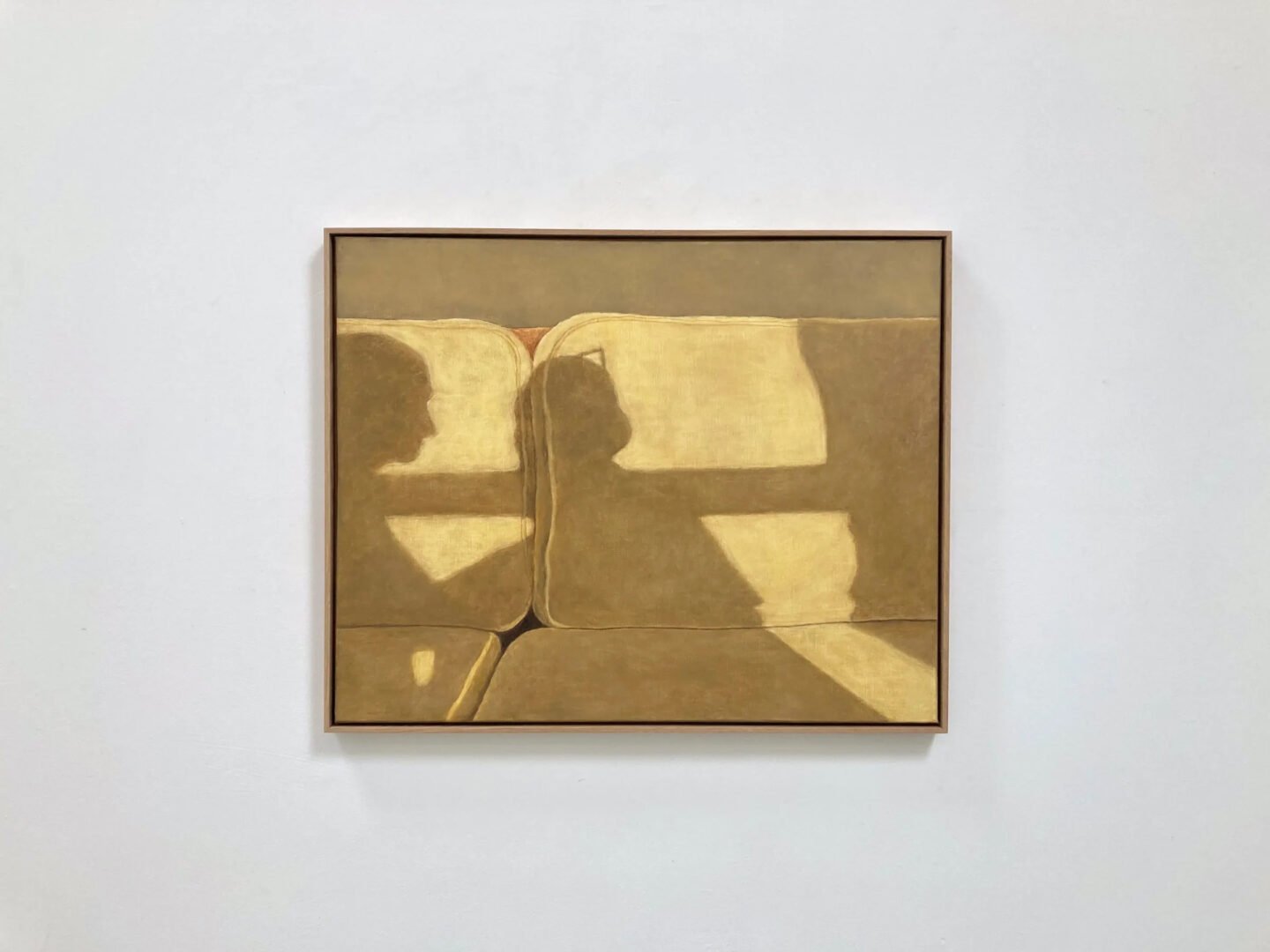 The Relationship, 2022
"I find insights into my work incredibly interesting, for they give more dimension to it. I love the way a painting can open up a conversation""I find insights into my work incredibly interesting, for they give more dimension to it. I love the way a painting can open up a conversation," says Allen; "this is what makes painting such a fulfilling experience." Her work may trigger senses and help fondly remember past experiences; however, this is never premeditated. "I never consciously try to influence the viewer's response to my work," the artist quickly points out. "When I paint, I don't create a work with any plan to manipulate the viewer's perception. Yet, I very much enjoy the journey of creating images in a solitary studio, with an ability to share them virtually, and through them, start a dialogue." More often than not, reactions and conversations take off on online platforms like Instagram. "I'm so grateful for the internet and social media. It has allowed my art to be seen, when galleries were showing no interest, and this has been very encouraging," she confesses. "Social media has allowed artists to have direct contact with clients, or people who just enjoy seeing their work. The power of communication through art has been completely transformed by it."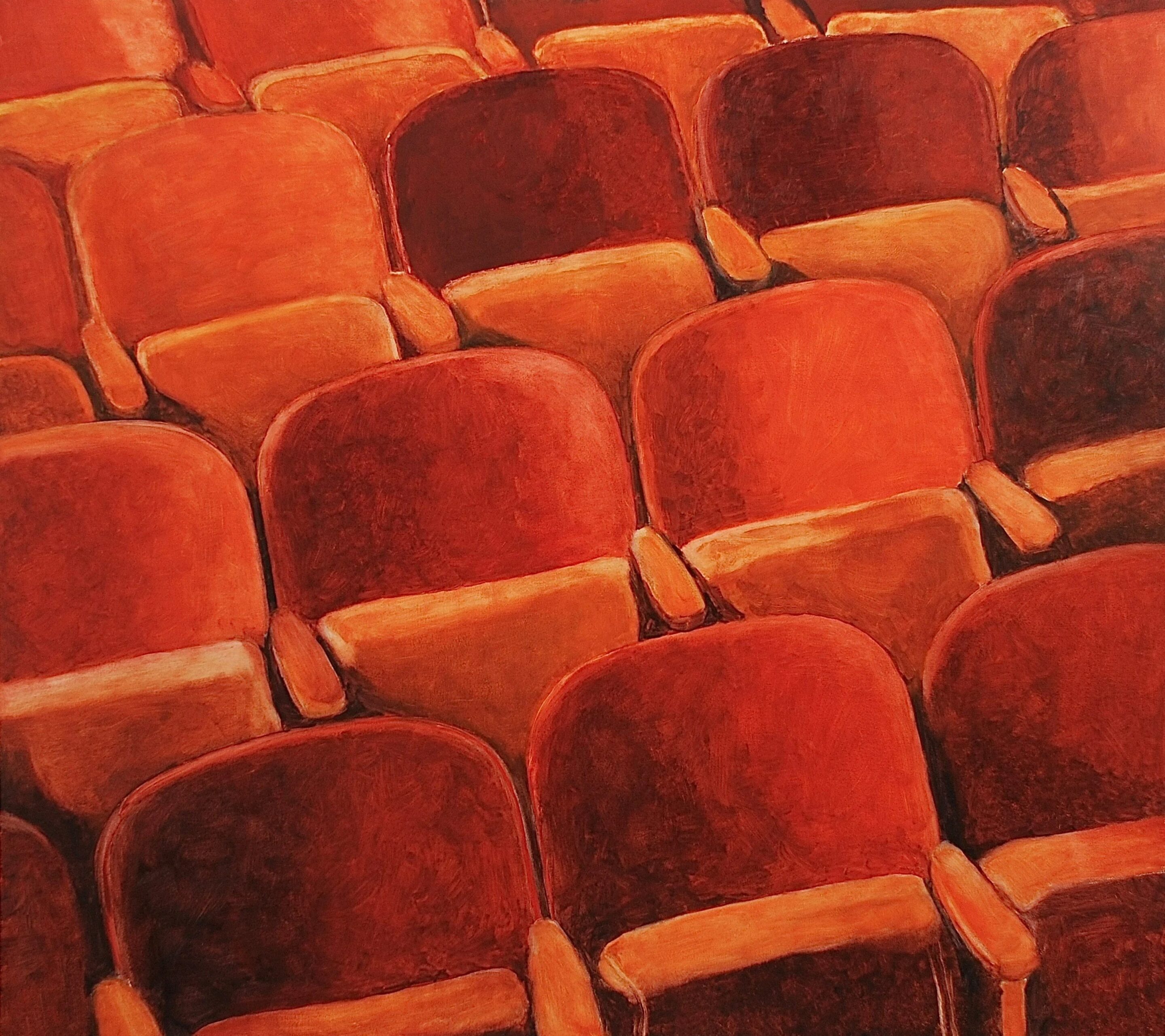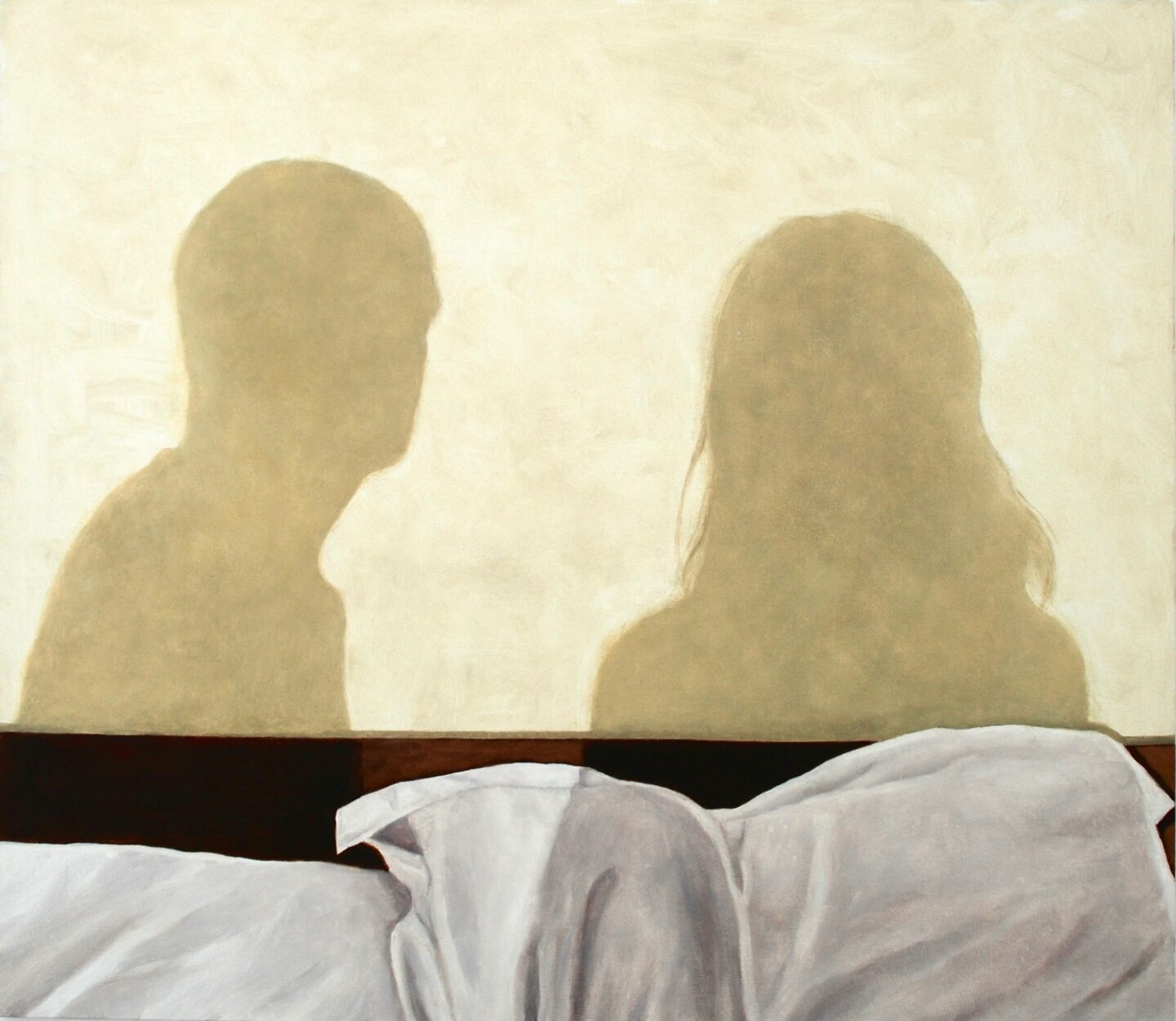 The Conversation, Study 1, 2023
Though today demand for Allen's work is as feverish as ever—her work is exhibited and presented in various galleries and shows worldwide, including an upcoming show at Scroll Gallery, New York—the artist remains critical of the complex and layered art landscape she moves through daily. "I personally find it quite frustrating the importance given to an artist's identity. It often appears more important than the quality of the actual art being made," she says, with a mildly reproving tone. Addressing the need for and importance of bringing older artists into the limelight, she adds that "the wealth of opportunities for the young is good, but it does seem to encourage a flip side, which is definite ageism. This can be frustrating for older artists, such as myself, whose work has developed and matured in obscurity for many years." By and large, Allen has pulled it off with her persistence, humble personality, and optimism, yet her words—like her empty minimalist scenes—leave food for thought, encouraging, once again, conversations beyond the personal.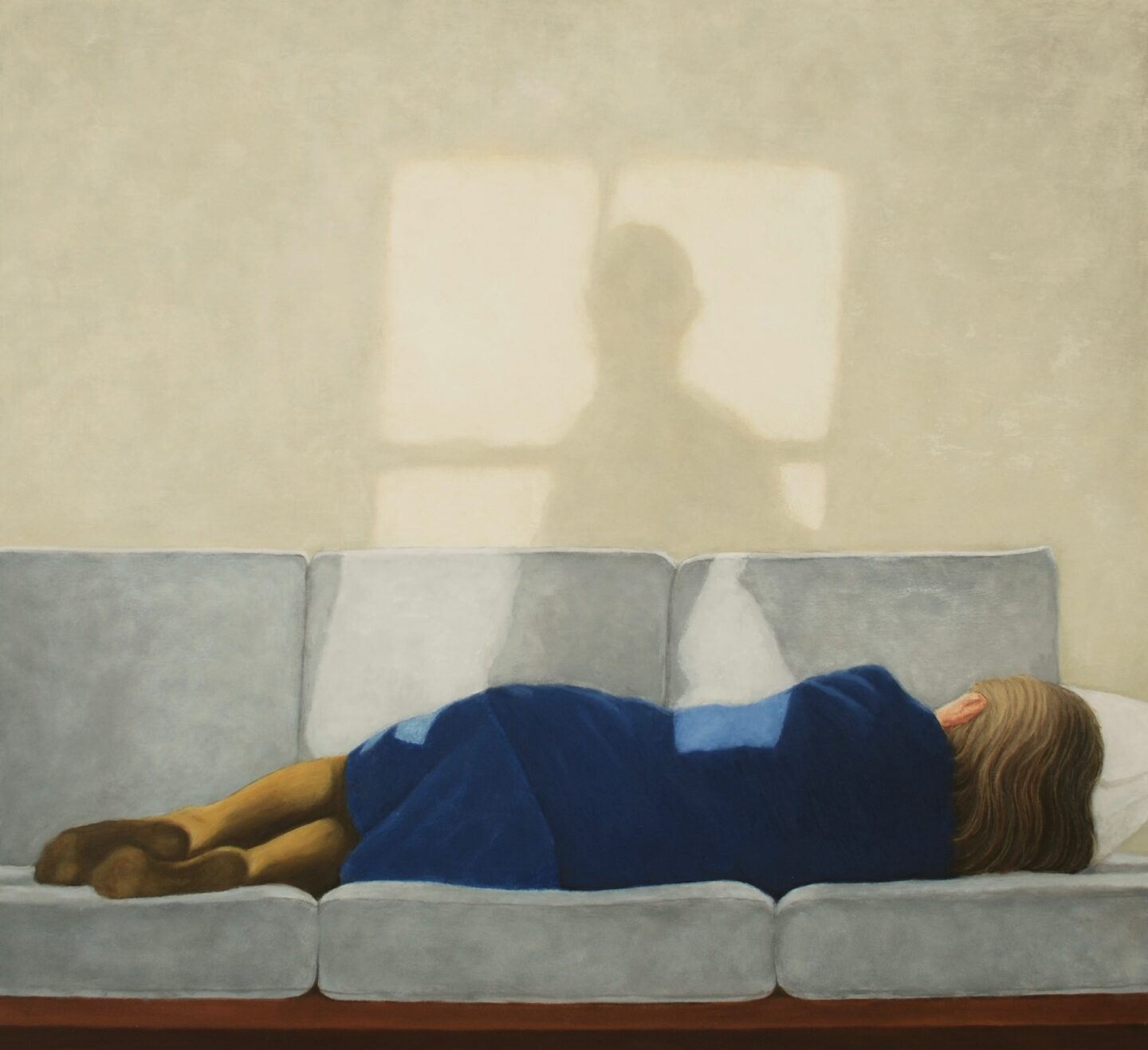 I Even Dream About You, 2023
Source: Ignant