Michael Sailstorfer: Reconstructing The Daily – ADC
The work of German sculptor Michael Sailstorfer revolves around the themes of transformation and temporality, and he frequently emphasizes a dialogue between nature and the human-made world. While his ideas often manifest in the form of objects and installations, the artist continually pushes the boundaries of sculpture, seeking to explore its limitations. Ignant had the opportunity to visit Sailstorfer in his studio in Berlin-Weißensee in early June and take a closer look at some of his works.
We enter the studio through a long corridor and find ourselves in a generous space filled with abundant daylight. "We are quite busy here at the moment," Sailstorfer tells us as he warmly welcomes us. "I just started to rent an additional space in Brandenburg, so we are in the process of moving things over there. That's why it might look a bit chaotic here," he adds with a smile.
We are immediately drawn to the space as we look around it. Previously used for film productions, this location has been the birthplace of many of Sailstorfer's projects since 2005. The atelier is made up of two adjoining halls with high ceilings, providing plenty of space for the artist and his team to work on their often large-scale sculptures. Along the room's walls, an array of different tools and materials seem to be waiting for their turn to contribute to or become part of a work. Spread over several big tables across the studio, various sketches, scale models, and tryouts provide insights into the process behind creating a new piece.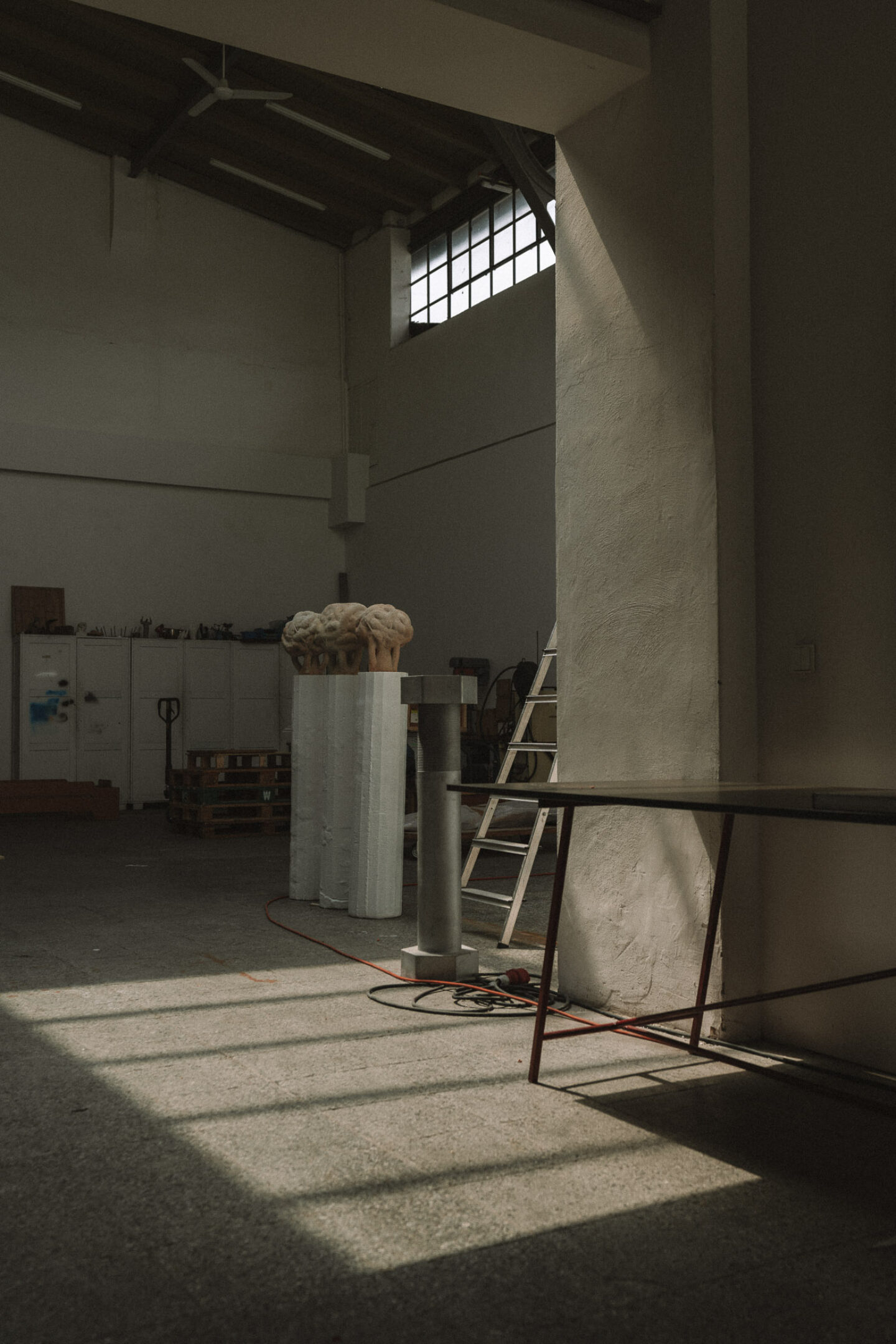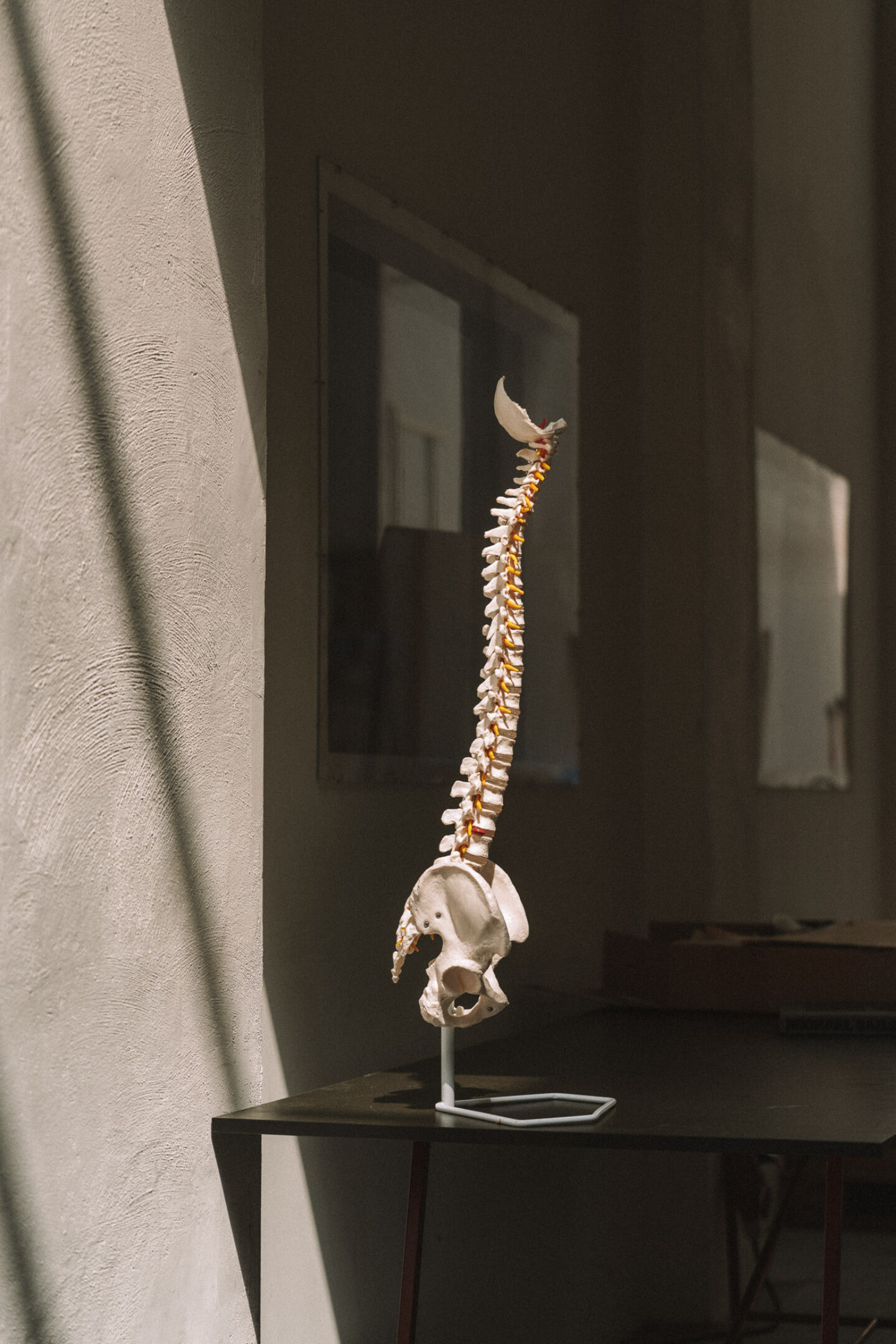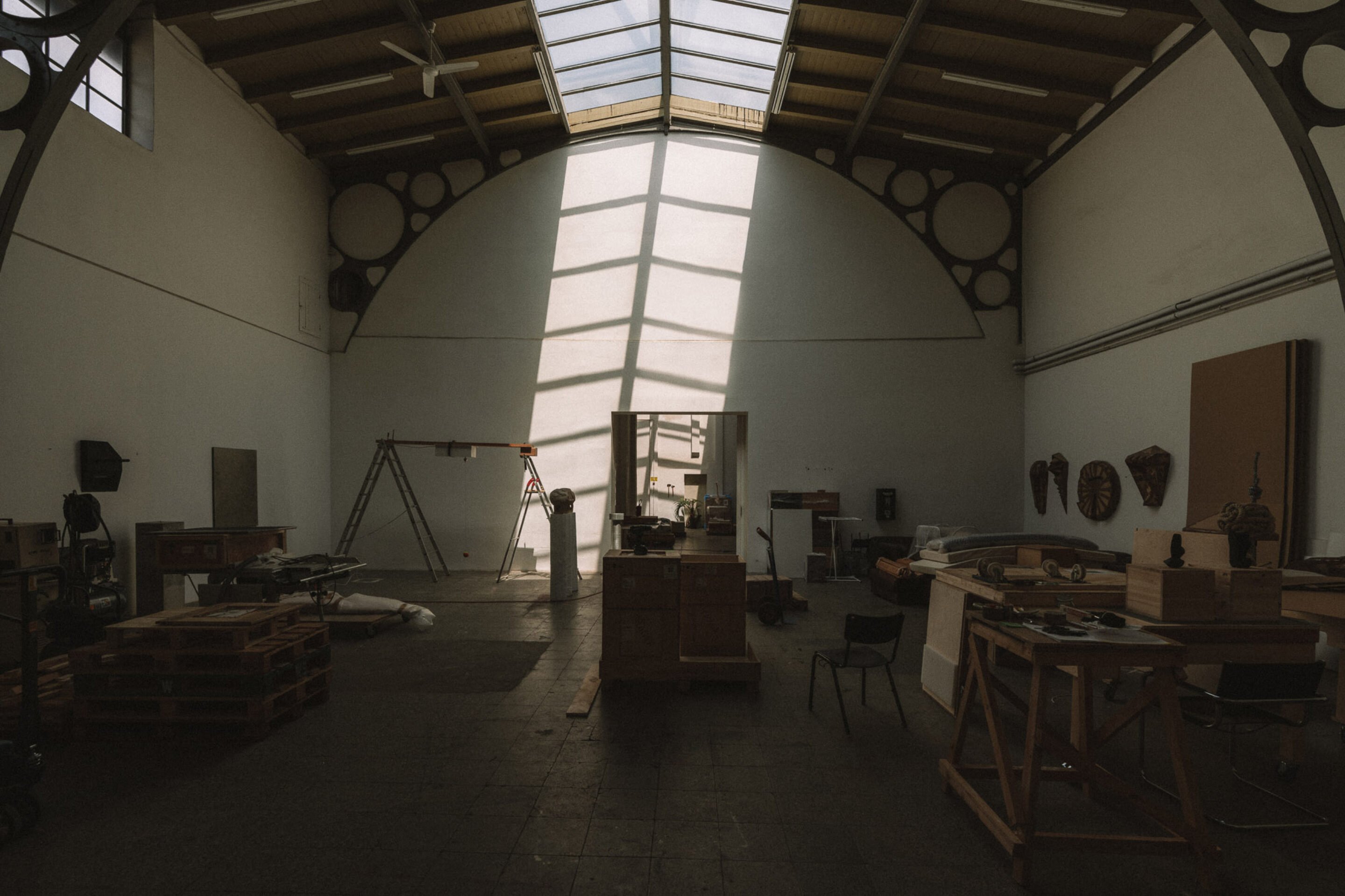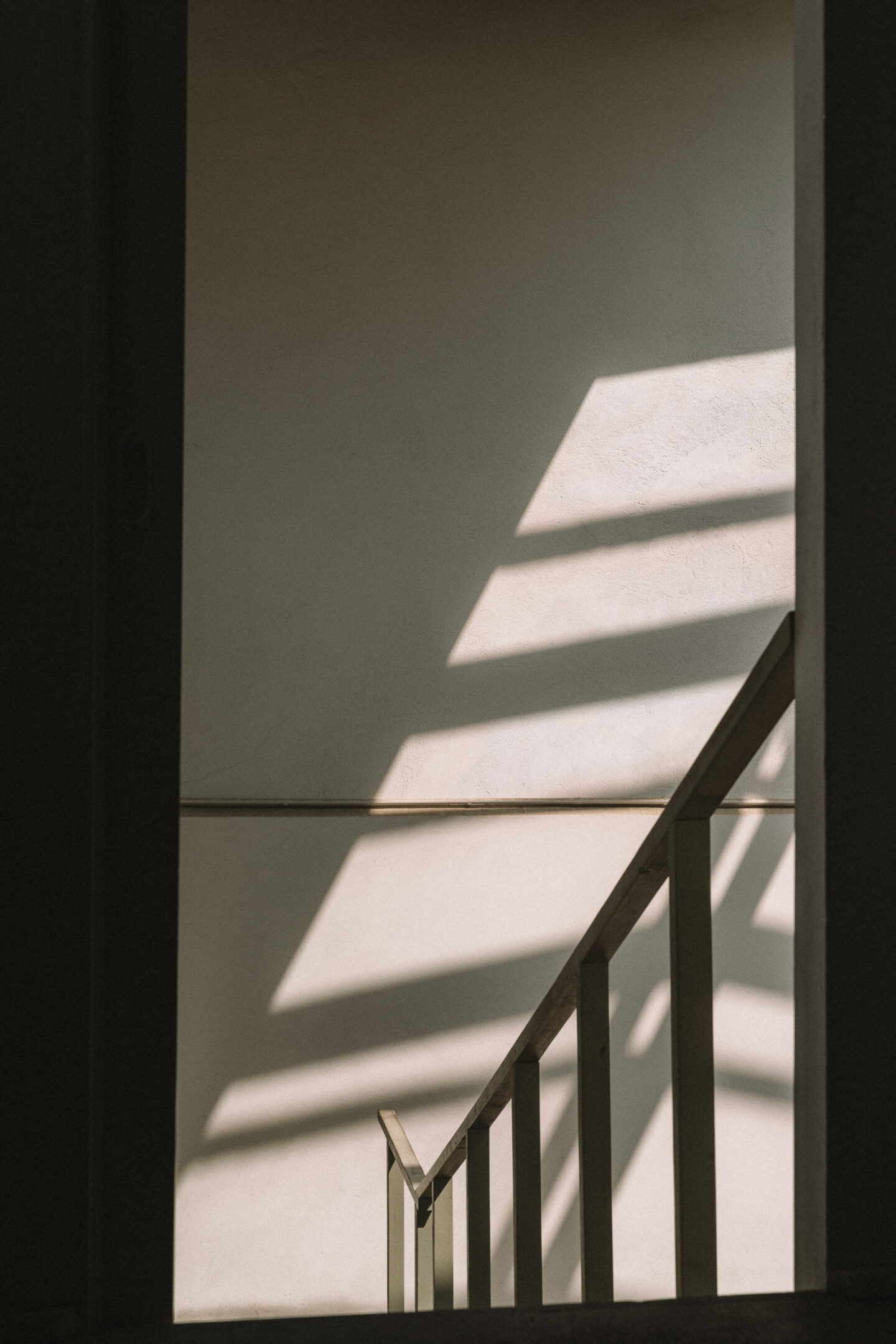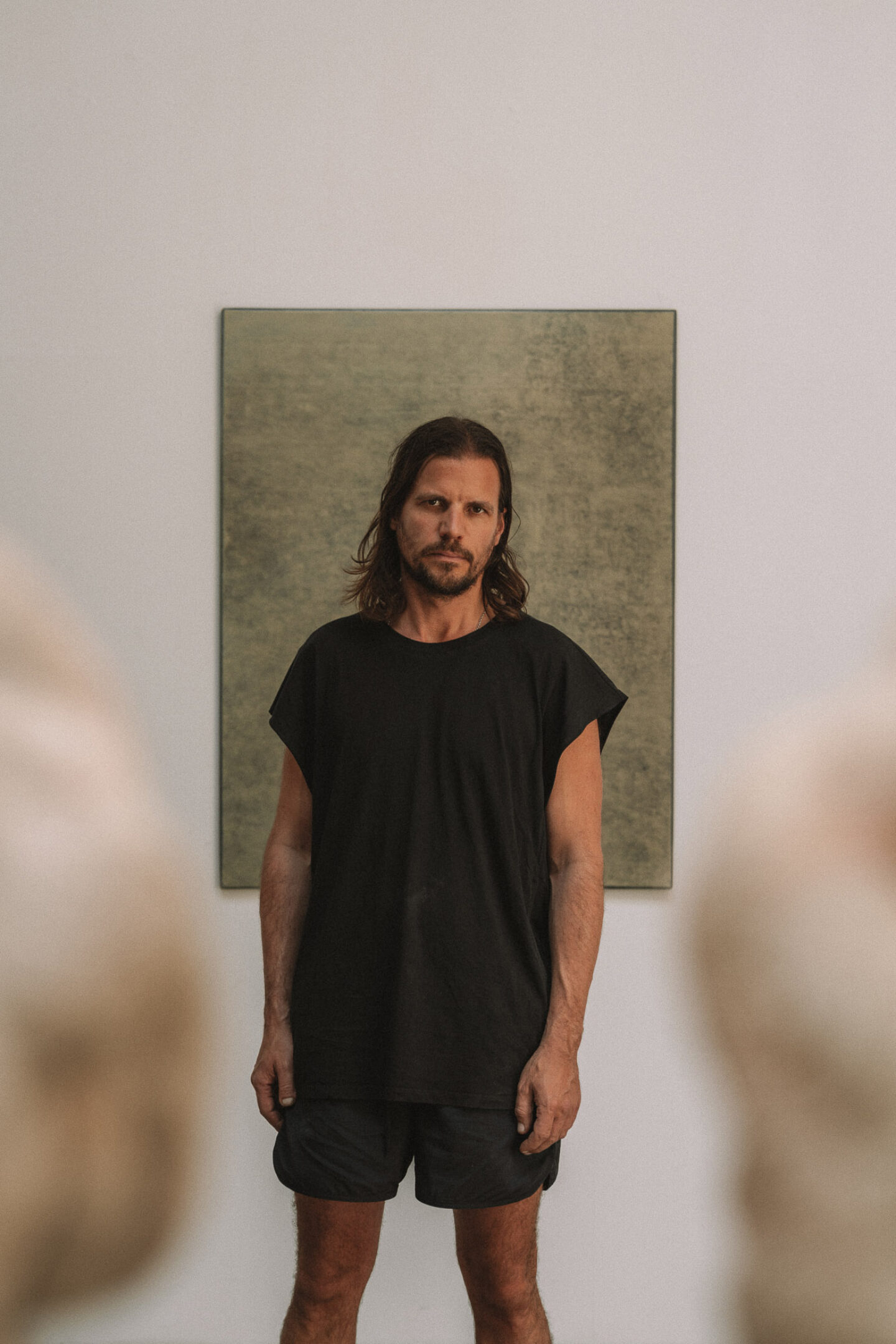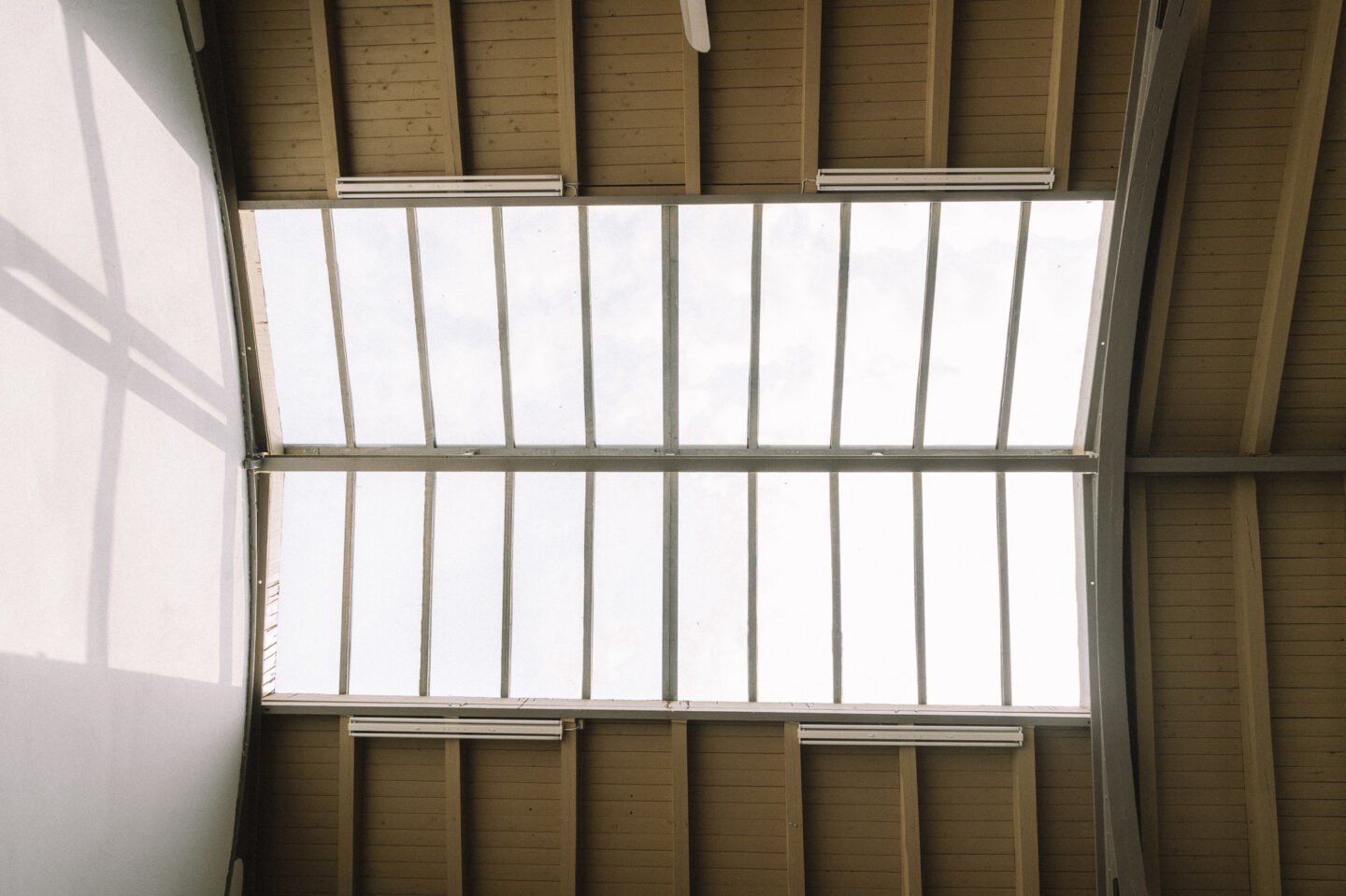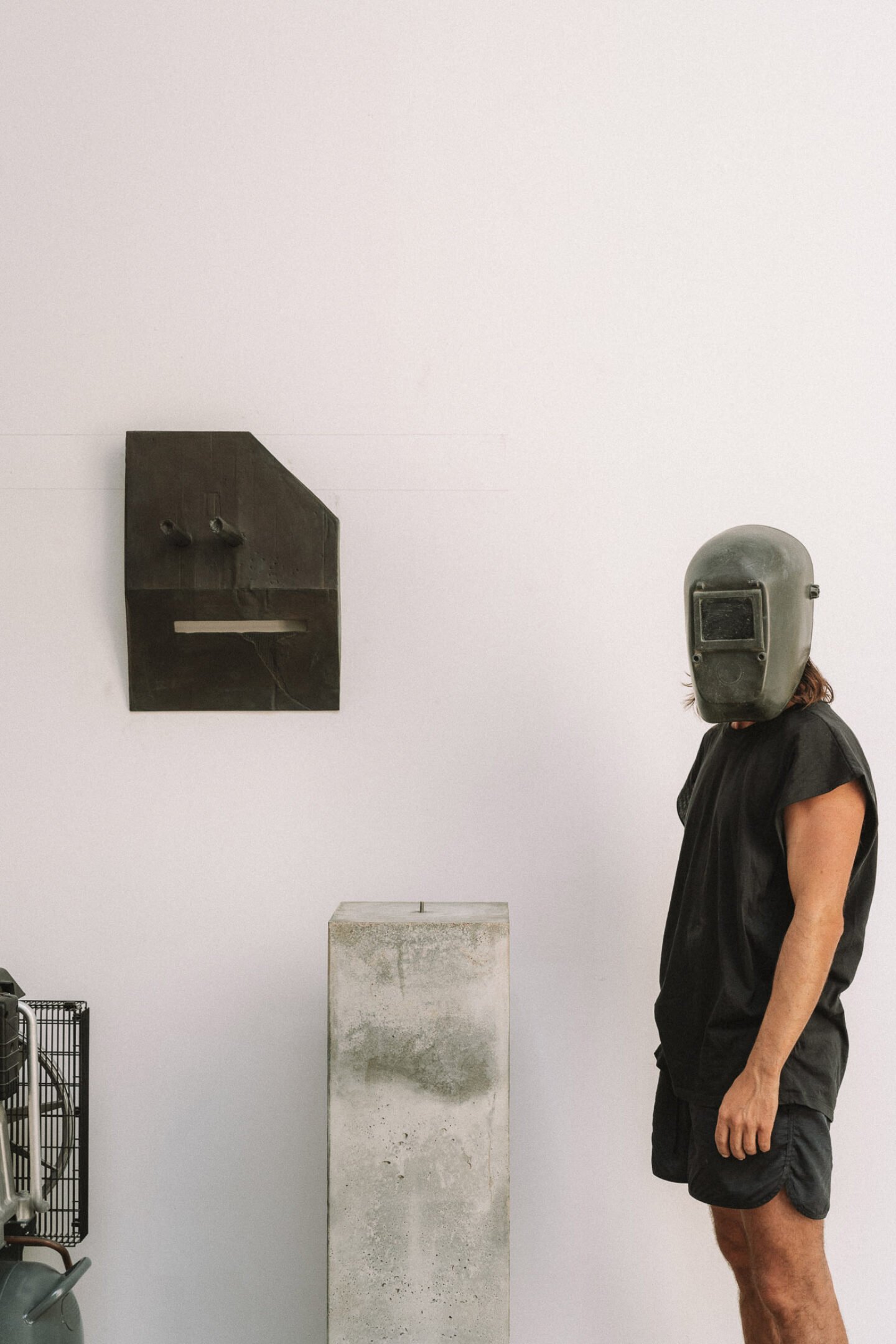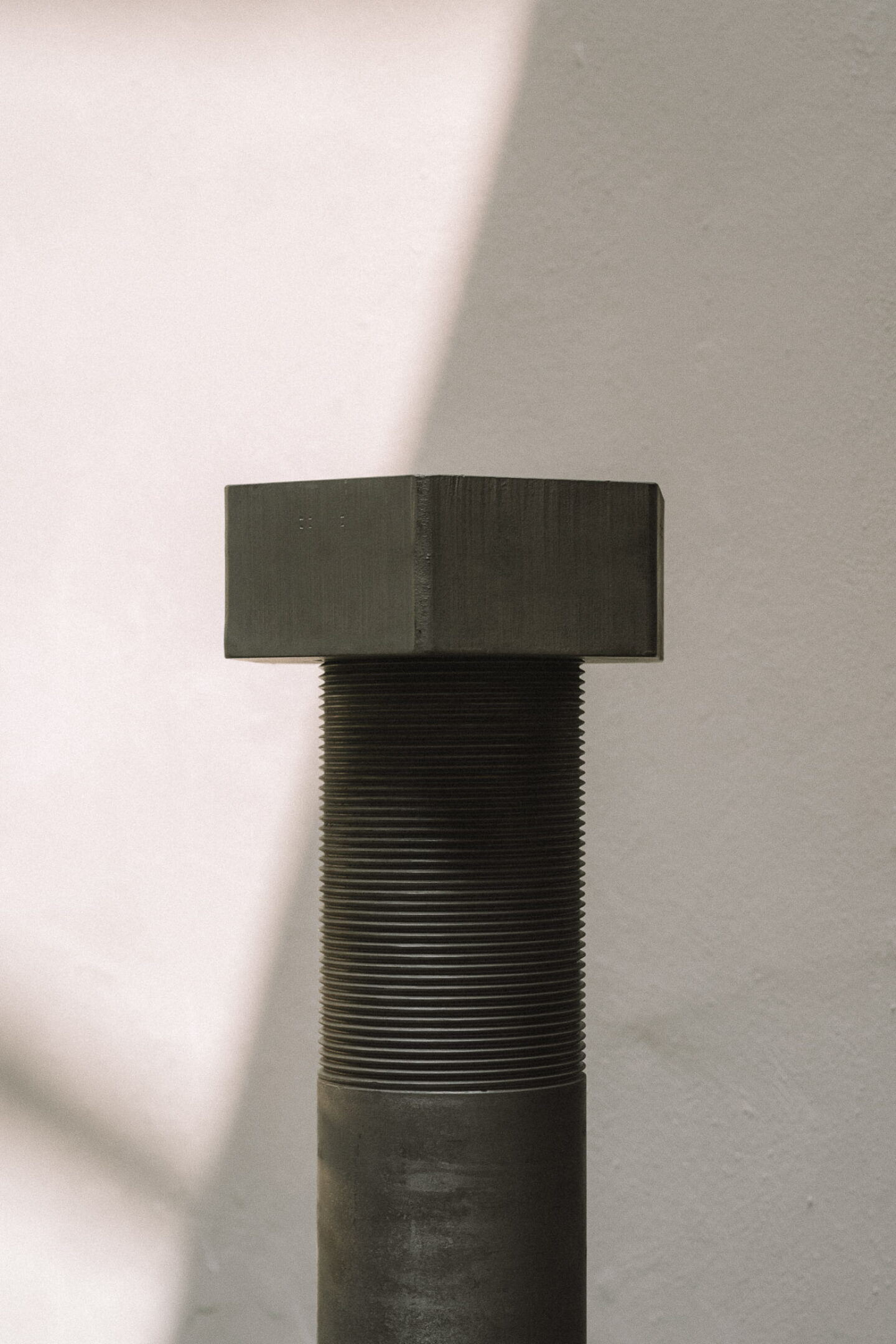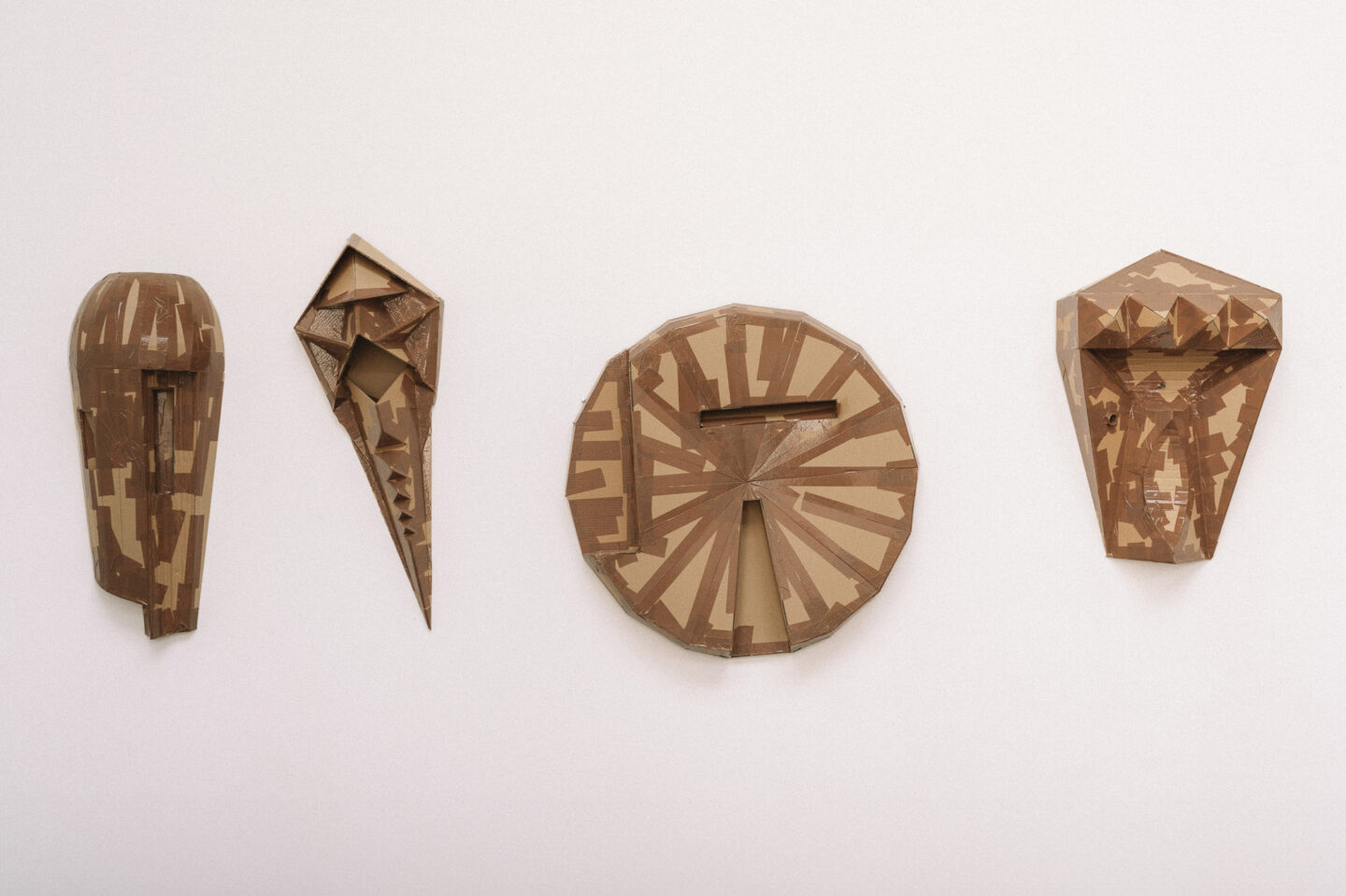 "I loosely see my work as a diary. Each sculpture captures a snapshot that reflects my emotions or describes where I currently stand in the world."
At one of the tables, our attention gets drawn toward a sculpture reminiscent of a brain. "I loosely see my work as a diary. Each sculpture captures a snapshot that reflects my emotions or describes where I currently stand in the world," Sailstorfer tells us as we ask him about the object. "When creating this series around brains, I was thinking about those restless nights when we lay awake, clinging onto a thought as it winds itself through our minds," he continues. The sculpture's material, a dense rope made of various little strings intertwined with each other, alludes to the intricate nature of our thoughts. "I then wanted to add some weight to the sculptures, which is why I decided to cast the brains in ceramic," he adds, pointing towards three of his "Atomic Brain" sculptures across the room.
The choice of specific materials is vital in Michael Sailstorfer's work. By decontextualizing and reconstructing daily objects in unexpected ways, he detaches them from their assigned meanings and gives them a life of their own. This approach creates new conversations and allows the supposedly known to transcend its original purpose.
A beautiful example of how Sailstorfer gives new meaning to everyday materials is his sculpture "Salt," a work his team unpacked for us from one of the many wooden crates piled up in the back of the studio. The tear-shaped sculpture is carved from salt stone and forms part of a larger group of works Sailstorfer created on the theme of sadness. While salt stone is a medium that has been incorporated into various projects over the past few years, this particular sculpture was created for an exhibition at Perrotin in New York in 2019. There, it was presented alongside a live stream showing three identical tears on the Norwegian coastline. The video captured how the coast's rough wind and crashing waves gradually dissolved the sculptures, causing the tears to slowly disappear and the salt to return to its original state throughout the exhibition.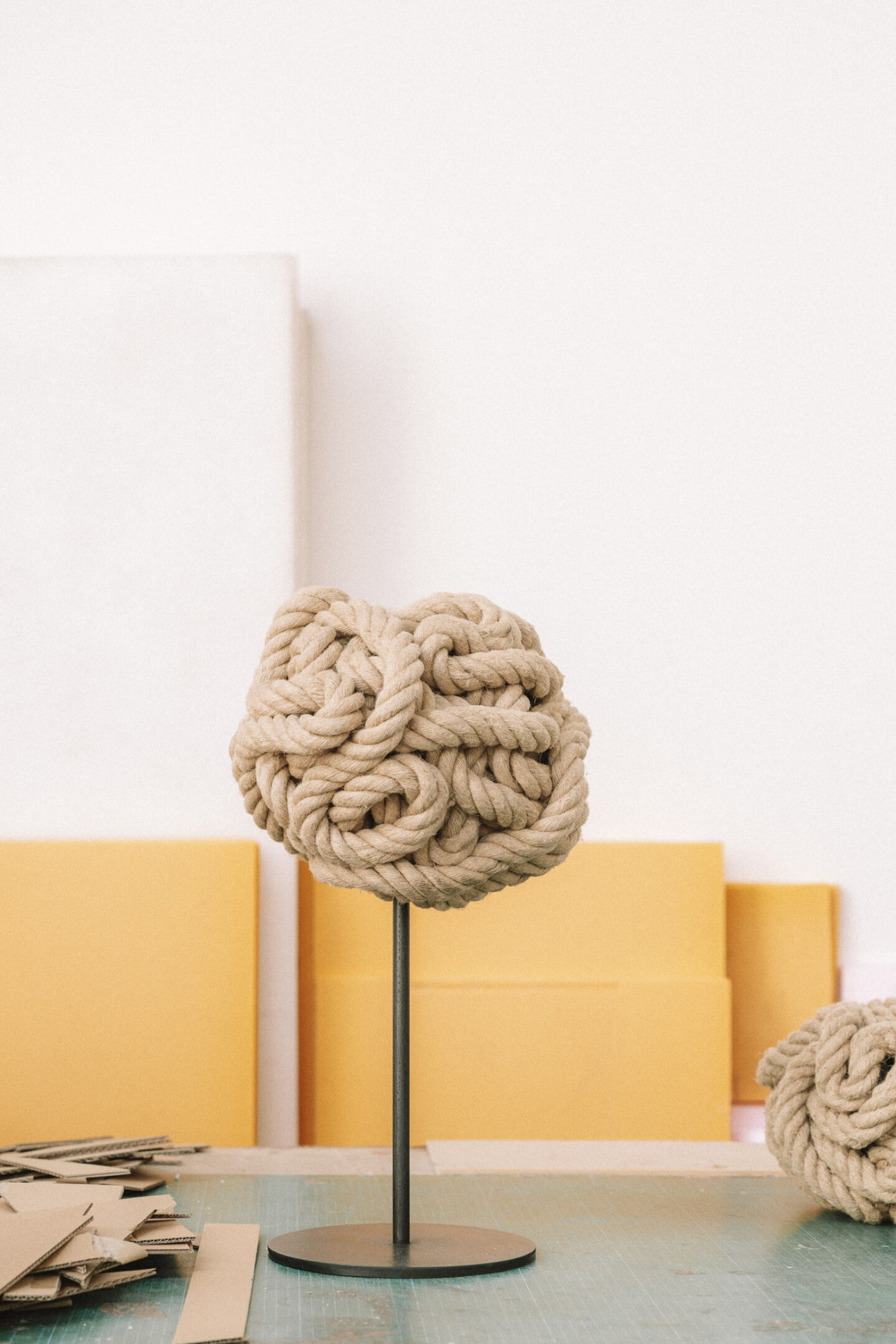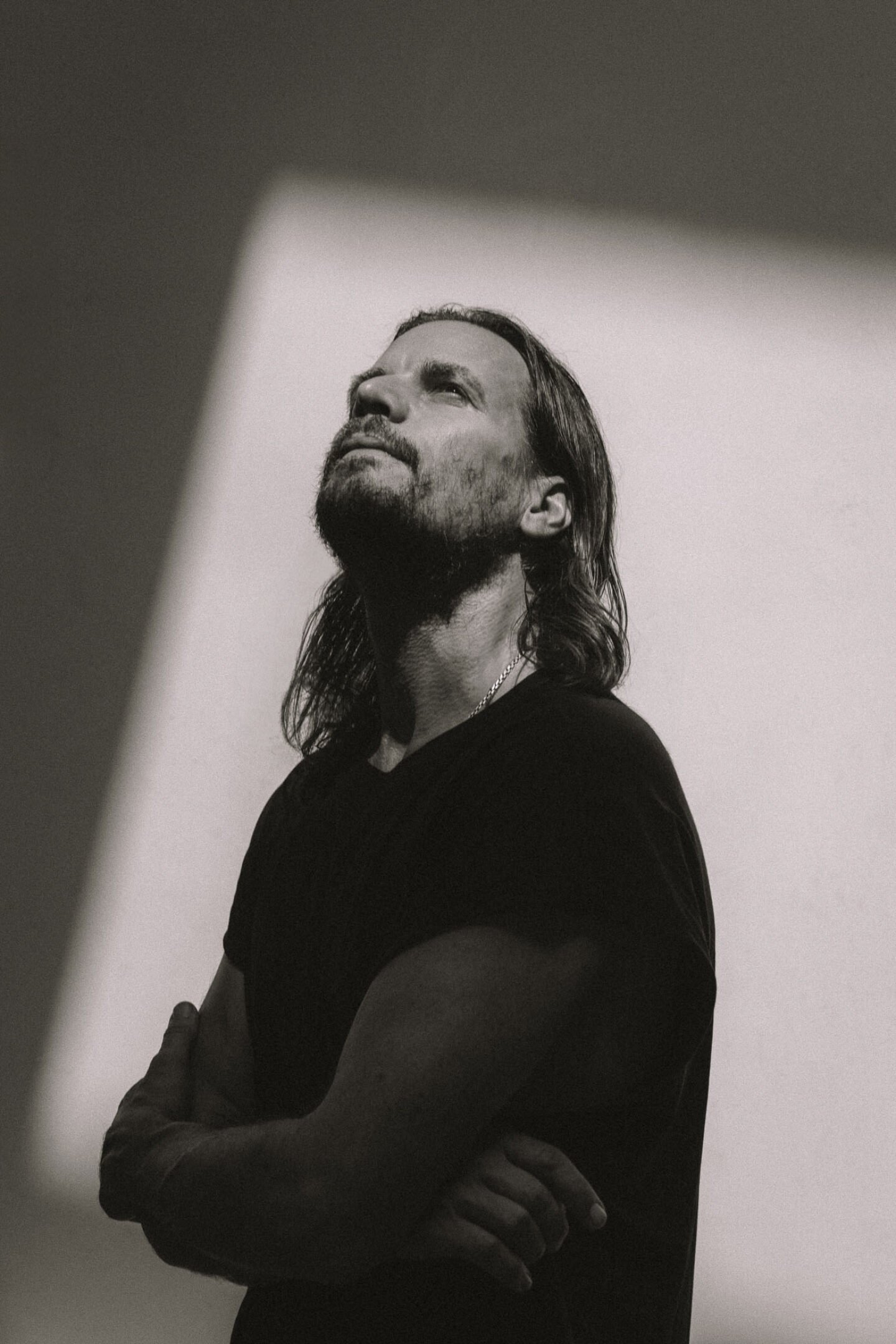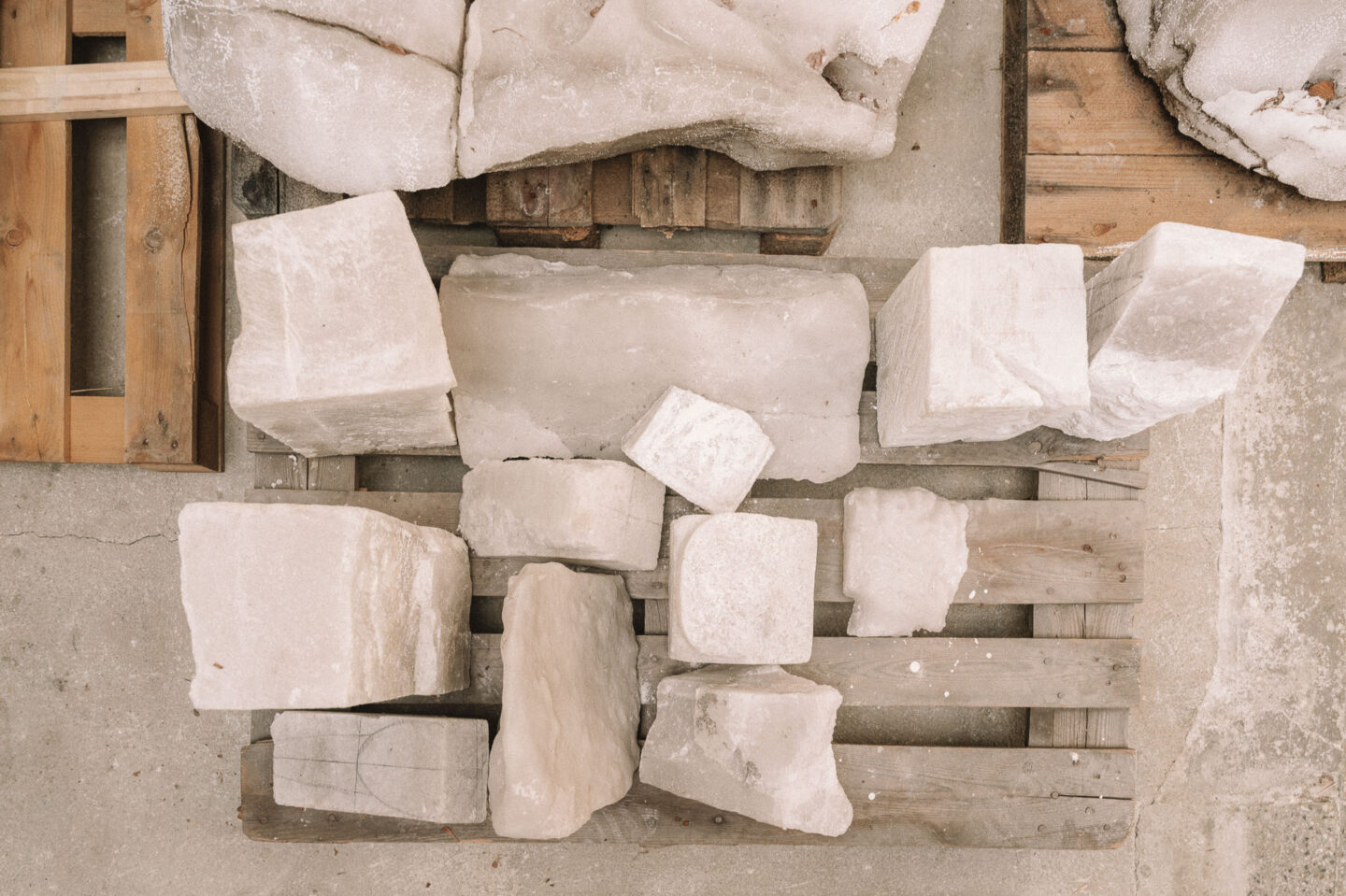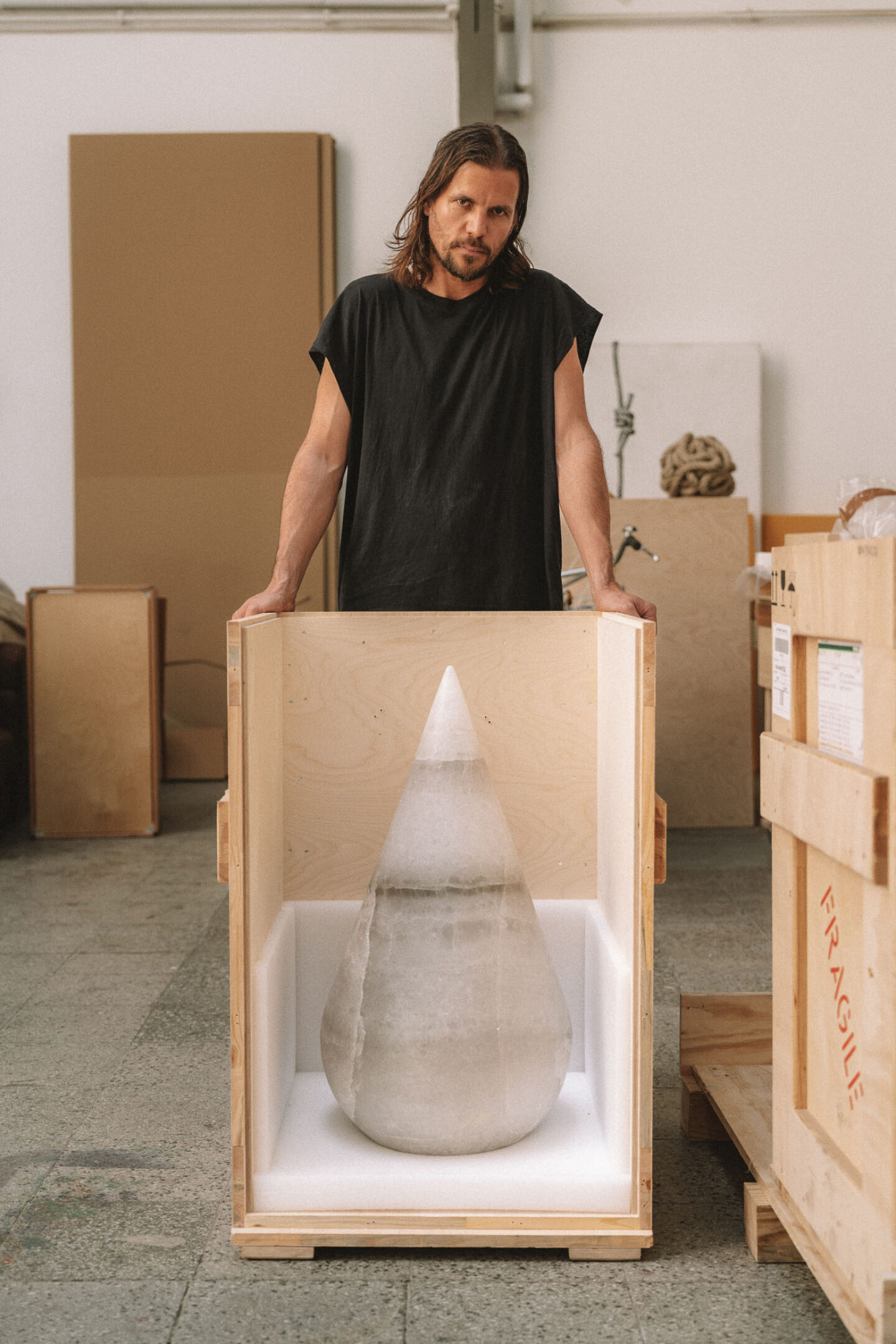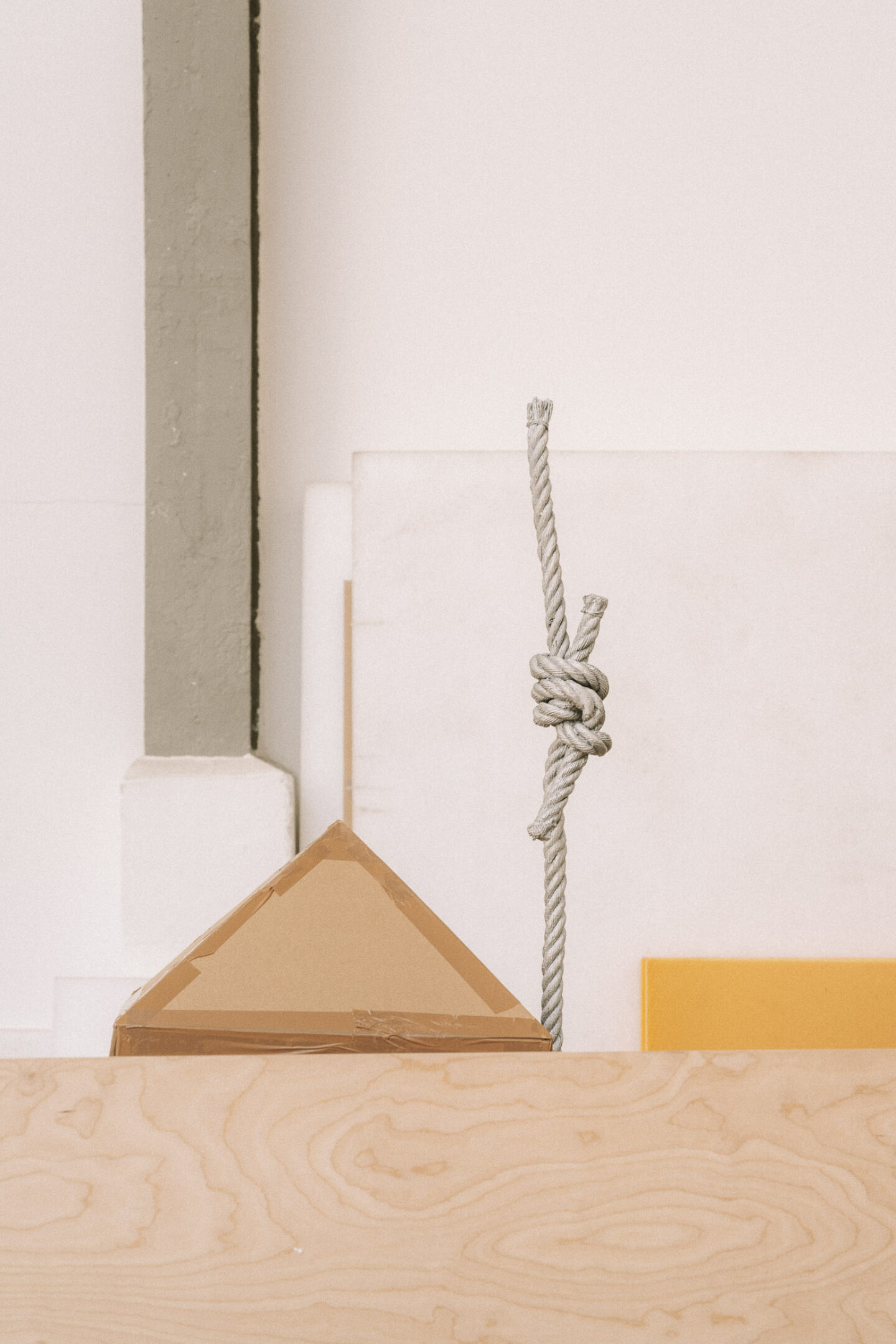 "Since the beginning of my career, it has been important for me that sculptures also have a life of their own…"In 2022, the artist concluded the series around the topic of sadness with a fragrance titled "Tears on Asphalt" that he created in collaboration with the German perfumer Geza Schön. "The perfume builds up on the idea that the heavy feeling of sadness evaporates into something beautiful," Sailstorfer explains as we mention the work. "It also stands in dialogue with some of my earlier projects, where I have explored how a relatively small sculpture can fill an entire room through sound and smell," he continues. "Since the beginning of my career, it has been important for me that sculptures also have a life of their own, that they can assert themselves and create a presence within a space," he continues. "The fragrance also references a quote from Andy Warhol, who once said that despite being very introverted, he would like to occupy the same amount of space within a room as a more extroverted character. This is why he would always wear a lot of perfume," he adds.
We keep walking through the space and see two apples hanging suspended on a thin aluminum rope between two ladders. The artwork, titled "Zwei Äpfel," is a kinetic sculpture in which two lifelike apples made from polystyrene constantly swing back and forth, approaching each other. However, being charged with an electric current, the apples keep repelling one another, which results in a mesmerizing dance between the two fruits. While the work has a playful character, it metaphorically represents the challenges faced by two bodies seemingly drawn to each other yet struggling to connect.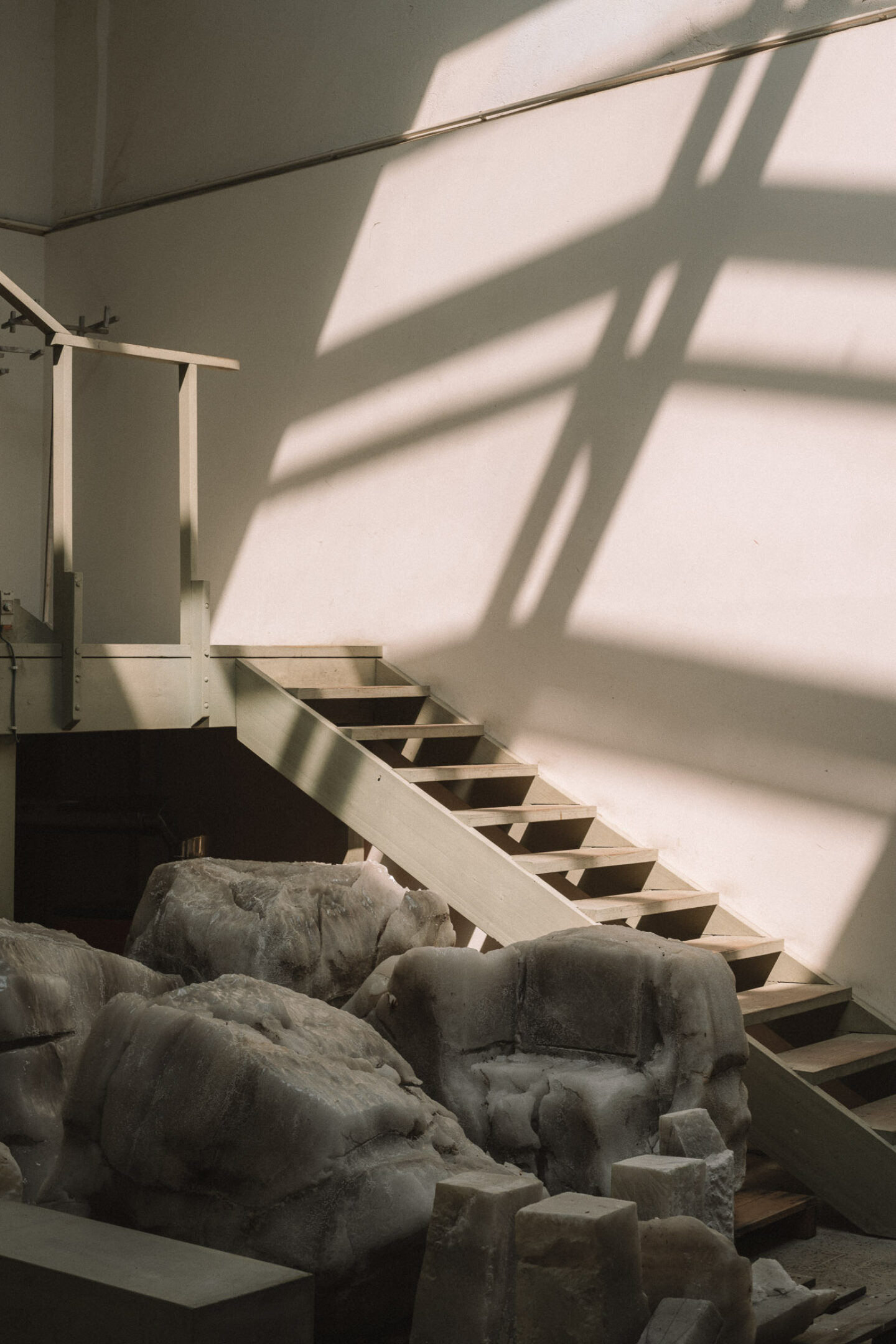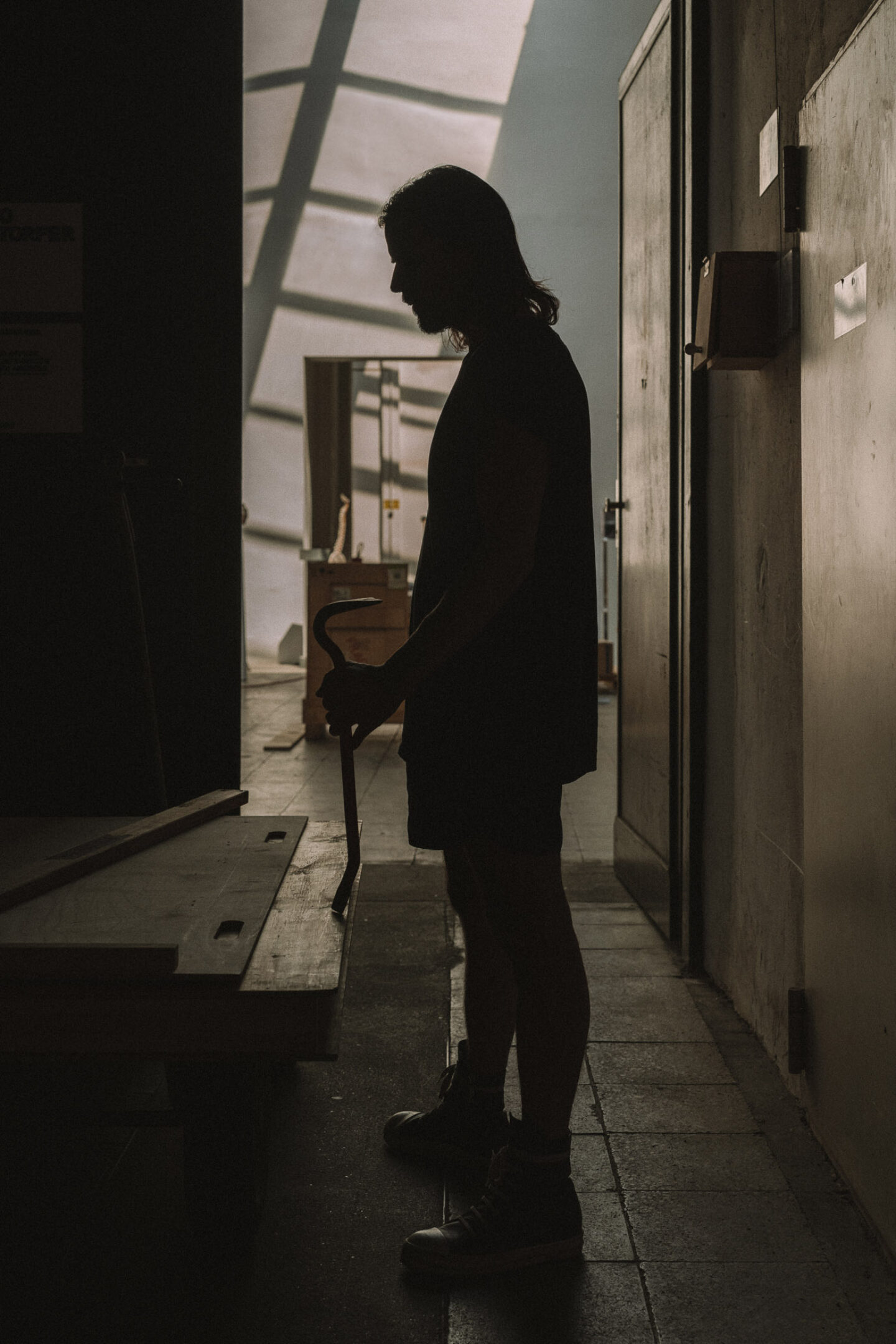 "I always very much consider the audience when I am creating new work."
As our visit nears its end, we stop in front of a work that belongs to Sailstorfer's series "Heavy Eyes." It is a painting for which the artist employed a thin layer of lead and eyeshadow as paint. While this material combination is unusual, they conceptually complement each other within the piece's narrative. "The painting is part of a group of works exploring the topic of heaviness from different angles," Sailstorfer explains. "On the one hand, it talks about weight, in terms of materials, but also about emotional burdens and putting on a mask," he continues. "It deals with questions like, What do I want to show of myself? Who do I want to be? or What do I want to hide? Those are all questions I am trying to explore within this body of work," he tells us.
"I always very much consider the audience when I am creating new work," Sailstorfer tells us as we wonder what role the audience plays in all of this. "The sculpture might already exist before the audience sees it; what brings it truly to life, however, are the eyes of the spectators that, ideally, respond to the pieces and interpret them based on their own experiences," he concludes.
Source: Ignant